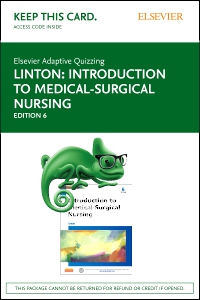 Publication Date:
05-02-2017
Elsevier Adaptive Quizzing for Introduction to Medical-Surgical Nursing (Access Card), 6th Edition
Elsevier Adaptive Quizzing - Access Card
Publication Date:
05-02-2017
Corresponding chapter-by-chapter to Linton's Introduction to Medical-Surgical Nursing, 6th Edition, Elsevier Adaptive Quizzing integrates seamlessly into your course to help students of all skill levels focus their study time and effectively prepare for class, course exams, and summative exams. Elsevier Adaptive Quizzing is comprised of a bank of high-quality practice questions that allows students to advance at their own pace — based on their performance — through multiple mastery levels for each chapter. A comprehensive dashboard allows students to view their progress and stay motivated. The educator dashboard, grade book, and reporting capabilities enable faculty to monitor the activity of individual students, assess overall class performance, and identify areas of strength and weakness, ultimately helping to achieve improved learning outcomes.
UNIQUE! Elsevier's trusted, market-leading content serves as the foundation for all questions, which are written, reviewed, and leveled by experienced educators, item writers, and authors.
UNIQUE! Unfolding questions become progressively more complex as you advance to higher levels, incorporating concepts such as delegation, multi-system disease, or complicating conditions to help you strengthen your critical thinking and clinical reasoning skills.
Essential test-taking tips and strategies help you learn how to successfully dissect and tackle different question types and improve test-taking skills for both course exams and summative exams.
Confidence level indicators allow you to indicate your confidence when submitting answers, providing valuable insight into areas where you might require further study.
UNIQUE! Practice in Study Mode, which provides immediate feedback, or in Exam Mode where the quiz is timed and results are summarized at the end.
UNIQUE! In addition to detailed rationales for each question, select questions include interactive, multimedia resources such as illustrations, animations, videos, audio clips, and study tips to help you master challenging material.
The engaging, easy-to-use interface ensures that you'll be able to navigate through the program with ease.
Multiple mastery levels for each chapter, topic, or concept allow you to progress from one level to the next based on your performance.
Alternate item format questions — including multiple-response, fill-in-the-blank, prioritizing, graphic item options, chart/exhibit, video, audio, and hot spot — provide valuable summative exam preparation.
The comprehensive dashboard allows you to view your personal learning progress with summaries of your strengths, weaknesses, mastery levels, and normative data.

Unit I Patient Care Concepts 1. The Health Care System 2. Nursing in Varied Patient Care Settings 3. Legal and Ethical Considerations 4. The Leadership Role of the Licensed Practical Nurse 5. The Nurse-Patient Relationship 6. Cultural Aspects of Nursing Care 7. The Nurse and the Family 8. Health and Illness 9. Nutrition 10. Developmental Processes 11. The Older Patient 12. The Nursing Process and Critical Thinking

Unit II Pysiologic Responses to Illness 13. Inflammation, Infection, and Immunity 14. Fluid and Electrolytes 15. Pain Management

Unit III Acute Care 16. First Aid, Emergency Care, and Disaster Management 17. Surgical Care 18. Intravenous Therapy 19. Shock

Unit IV Long-Term Care and Home Health Care 20. Falls 21. Immobility 22. Delirium and Dementia 23. Incontinence 24. Loss, Death, and End-of-Life Care

Unit V Cancer 25. The Patient with Cancer 26. The Patient with an Ostomy

Unit VI Neurologic Disorders 27. Neurologic Disorders 28. Cerebrovascular Accident 29. Spinal Cord Injury

Unit VII Respiratory Disorders 30. Disorders of the Upper Respiratory Tract: Nose, Sinuses, Throat 31. Acute Disorders of the Lower Respiratory Tract 32. Chronic Disorders of the Lower Respiratory Tract

Unit VIII Hematologic and Immunologic disorders 33. Hematologic Disorders 34. Immunologic Disorders 35. Human Immunodeficiency Virus and Acquired Immunodeficiency Syndrome

Unit IX Cardiovascular Disorders 36. Cardiac Disorders 37. Vascular Disorders 38. Hypertension

Unit X Digestive Disorders 39. Disorders of the Upper Digestive Tract 40. Disasters of the Lower Digestive Tract 41. Liver, Gallbladder, and Pancreatic Disorders

Unit XI Urologic Disorders 42. Urologic Disorders

Unit XII Musculoskeletal Disorders 43. Connective Tissue Disorders 44. Fractures 45. Amputations

Unit XIII Endocrine Disorders 46. Pituitary and Adrenal Disorders 47. Thyroid and Parathyroid Disorders 48. Diabetes Mellitus and Hypoglycemia

Unit XIV Reproductive Disorders 49. Female Reproductive Disorders 50. Male Reproductive Disorders 51. Sexually Transmitted Infections

Unit XV Integumentary Disorders 52. Skin Disorders

Unit XVI Disorders of the Eyes and Ears 53. Eye and Vision Disorders 54. Ear and Hearing Disorders

Unit XVII Mental Health and Illness 55. Psychologic Responses to Illness 56. Psychiatric Disorders 57. Substance-Related and Addictive Disorders Glossary Index

Adrianne Dill Linton, BSN, MN, PhD, RN, FAAN, Professor Emeritus and former Chair of the Department of Family and Community Health at the University of Texas San Antonio School of Nursing.