Elsevier Adaptive Quizzing for Kinn's The Administrative Medical Assistant (Access Card), 8th Edition
Elsevier Adaptive Quizzing - Access Card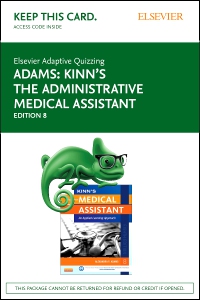 Free Shipping!
In Stock
This item has low stock levels and may be back-ordered. We'll let you know if it is back-ordered, and you will not be charged until the item ships.
Corresponding chapter-by-chapter to Kinn's The Administrative Medical Assistant: An Applied Learning Approach, 8th Edition, Elsevier Adaptive Quizzing is the fun and engaging way to focus your study time and effectively prepare for class, course exams, and summative exams. Elsevier Adaptive Quizzing is comprised of a bank of high-quality practice questions that allows you to advance at your own pace — based on your performance — through multiple mastery levels for each chapter. A comprehensive dashboard allows you to view your progress and stay motivated.
Duration for access to this product, which may be at the discretion of your institution, is up to 36 months. Elsevier reserves the right to restrict or remove access due to changes in product portfolio or other market conditions.
UNIQUE! Elsevier's trusted, market-leading content serves as the foundation for all questions, which are written, reviewed, and leveled by experienced educators, item writers, and authors.
UNIQUE! Unfolding questions become progressively more complex as you advance to higher levels, incorporating concepts such as delegation, multi-system disease, or complicating conditions to help you strengthen your critical thinking and clinical reasoning skills.
Essential test-taking tips and strategies help you learn how to successfully dissect and tackle different question types and improve test-taking skills for both course exams and summative exams.
Confidence level indicators allow you to indicate your confidence when submitting answers, providing valuable insight into areas where you might require further study.
UNIQUE! Practice in Study Mode, which provides immediate feedback, or in Exam Mode where the quiz is timed and results are summarized at the end.
UNIQUE! In addition to detailed rationales for each question, select questions include interactive, multimedia resources such as illustrations, animations, videos, audio clips, and study tips to help you master challenging material.
The engaging, easy-to-use interface ensures that you'll be able to navigate through the program with ease.
Multiple mastery levels for each chapter, topic, or concept allow you to progress from one level to the next based on your performance.
Alternate item format questions — including multiple-response, fill-in-the-blank, prioritizing, graphic item options, chart/exhibit, video, audio, and hot spot — provide valuable summative exam preparation.
The comprehensive dashboard allows you to view your personal learning progress with summaries of your strengths, weaknesses, mastery levels, and normative data.

Introduction
1. Becoming a Successful Student
2. The Healthcare Industry
Unit One: Introduction to Medical Assisting
3. The Medical Assisting Profession
4. Professional Behavior in the Workplace
5. Interpersonal Skills and Human Behavior
6. Medicine and Ethics
7. Medicine and Law
Unit Two: Administrative Medical Assisting
8. Computer Concepts
9. Telephone Techniques
10. Scheduling Appointments
11. Patient Reception and Processing
12. Office Environment and Daily Operations
13. Written Communications and Mail Processing
Unit Three: Health Information in the Medical Office
14. The Paper Medical Record
15. The Electronic Medical Record
16. Health Information Management
17. Privacy in the Physician's Office
Unit Four: Billing and Coding Procedures
18. Basics of Diagnostic Coding
19. Basics of Procedure Coding
20. Basics of Health Insurance
21. The Health Insurance Claim Form
22. Professional Fees, Billing, and Collecting
Unit Five: Financial and Practice Management
23. Banking Services and Procedures
24. Management of Practice Finances
25. Medical Practice Management and Human Resources
26. Medical Practice Marketing and Customer Service
Unit Six: Assisting with Medical Specialties
27. Emergency Preparedness and Assisting with Medical Emergencies
Unit Seven: Career Development
28. Career Development and Life Skills

Alexandra Patricia Adams, BBA, RMA, CMA (AAMA), MA, Adjunct Instructor, Everest College, Arlington Midcities Campus, Arlington, TX; Professional Writer, Grand Prairie, TX; Formerly, Director of Admissions, Parker College of Chiropractic, Dallas, TX; Formerly, Program Director, Medical Assisting/HIM Programs, Ultrasound Diagnostic School, Irving, TX