Saunders Q & A Review for the NCLEX-PN® Examination Elsevier eBook on VitalSource, 5th Edition
Elsevier eBook on VitalSource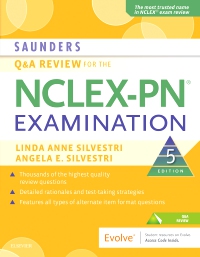 Or $0.00 with a valid access code
The best way to prepare for the NCLEX-PN Exam is practice, practice, practice! And with over 5,000 NCLEX-style review questions reflecting the most current clinical updates and test plan, Saunders Q&A Review for the NCLEX-PN® Examination, 5th Edition delivers all the practice you need to pass this all-important exam and so much more! Review questions in the physical book or go online and utilize the quiz mode or exam mode for an even more realistic review experience. There are ample alternate item question types in both the physical book and online. All questions are cross-categorized by level of cognitive ability, client needs area, integrated process, and 21 different clinical content areas — giving you the ability to really focus your study efforts where you need it most. All questions also include rationales for correct and incorrect options; as well as helpful test-taking strategies. This proven study resource has already helped thousands of students pass the NCLEX-PN Exam the first time. Don't miss your chance!
Detailed test-taking strategies for each question offer clues for analyzing and uncovering the correct answer option. Rationales are provided for both correct and incorrect options.
All alternate item format questions provide the necessary practice in critical thinking and prioritization.
85-question comprehensive exam reflects the percentages identified in the NCLEX-PN exam test plan.
Content organized by Client Needs and Integrated Processes provides an organized review for exam preparation and end-of-course standardized exams.
Each question is categorized by level of cognitive ability, Client Needs area, integrated process, and clinical content area offer multiple study and exam selections.
Introductory chapters cover exam preparation guidance, nonacademic preparation, test-taking strategies, the CAT format, and the NCLEX-PN from a new graduate's perspective.

NEW! Content reflecting the latest NCLEX-PN test plan incorporates the most current clinical updates.
NEW! 300 additional questions make a total of 5,000 practice questions between the book and the Evolve companion website.
NEW! Video and graphic option questions familiarize users with these alternate item format question types that could appear on the NCLEX.
NEW! Testlets feature case studies with review questions to further hone users critical thinking skills.
NEW & UNIQUE! Priority Nursing Action tips are provided for each question to clarify the most important nursing considerations and interventions for each scenario.

UNIT 1: NCLEX-PN PREPARATION

1. The NCLEX-PN Examination 2. Profiles to Success 3. The NCLEX-PN Examination: From a Graduate's Perspective 4. Test-Taking Strategies

UNIT 2: CLIENT NEEDS

5. Client Needs and the NCLEX-PN Test Plan

Test 1 Safe and Effective Care Environment Test 2 Health Promotion and Maintenance Test 3 Psychosocial Integrity Test 4 Physiological Integrity

UNIT 3: INTEGRATED PROCESSES

6. Integrated Processes and the NCLEX-PN Test Plan

Test 5 Integrated Processes

UNIT 4: COMPREHENSIVE TEST

Test 6 Comprehensive Test

References

Linda Anne Silvestri, PhD, RN, FAAN, Assistant Professor of Nursing, Clinical Coordinator, Nursing Program, Salve Regina University, Newport, Rhode Island; President, Professional Nursing Seminars, Inc., Charlestown, Rhode Island. and Angela Elizabeth Silvestri, PhD, APRN, FNP-BC, CNE, Assistant Professor, Touro University Nevada-School of Nursing, Henderson, Nevada.