Netter's Moving AnatoME Elsevier eBook on VitalSource
,
Elsevier eBook on VitalSource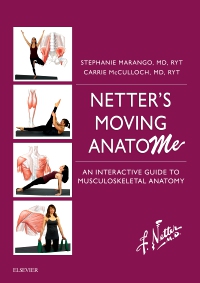 Or $0.00 with a valid access code
Students and practitioners in the health sciences face a universal paradox: while preparing to be a caregiver to others, it's easy to lose sight of one's own health and well-being. Netter's Moving AnatoME: An Interactive Guide to Musculoskeletal Anatomy helps you meet and overcome this challenge in a highly personal, uniquely effective way. This movement-based, interactive resource encourages you to approach anatomy by moving while you learn, with expert guidance from online videos designed exclusively for students of anatomy. Both fun and functional, this experiential learning approach jump starts your personal commitment to self-care, relaxation, and work-life balance by integrating academic material with real-life application.
Duration for access to this product is for the life of the edition.
Contents

Part 1 Introduction

Introduction to Moving AnatoME
Overview of Yoga and Pilates 
Movement Primer

Part 2 Your Body

Section A Axial Skeleton

Regional Overview of Axial Skeleton
Head
Neck and Back

Section B Appendicular Skeleton: Upper Extremity

Regional Overview of Upper Extremity
Shoulder
Elbow
Wrist
Hand

Section C Appendicular Skeleton: Lower Extremity

Regional Overview of Lower Extremity
Hip 
Knee
Ankle
Foot

Part 3 Your Body as Medicine

Practical Application: Moving AnatoME
Foundations for Health: Posture and Mindfulness

Contents

Part 1 Introduction

Introduction to Moving AnatoME
Overview of Yoga and Pilates 
Movement Primer

Part 2 Your Body

Section A Axial Skeleton

Regional Overview of Axial Skeleton
Head
Neck and Back

Section B Appendicular Skeleton: Upper Extremity

Regional Overview of Upper Extremity
Shoulder
Elbow
Wrist
Hand

Section C Appendicular Skeleton: Lower Extremity

Regional Overview of Lower Extremity
Hip 
Knee
Ankle
Foot

Part 3 Your Body as Medicine

Practical Application: Moving AnatoME
Foundations for Health: Posture and Mindfulness

Stephanie Marango, MD, RYT, Stephanie Marango, MD, RYT New York University, New York, New York,United States. and Carrie B. McCulloch, MD, RYT, Carrie McCulloch, MD, RYT,New York, New York