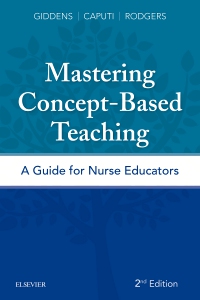 Publication Date:
03-01-2019
Mastering Concept-Based Teaching Elsevier eBook on VitalSource, 2nd Edition
Elsevier eBook on VitalSource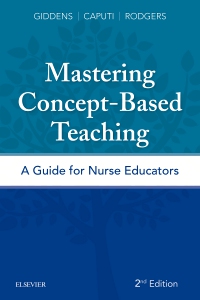 Publication Date:
03-01-2019
Or $0.00 with a valid access code
Get all the strategies and guidance you need successfully implement conceptual learning with Mastering Concept-Based Teaching, 2nd Edition. Written specifically for nursing faculty, renowned educators Dr. Jean Foret Giddens, Dr. Linda Caputi, and Dr. Beth Rodgers walk you through the background and benefits of using a concept-based learning approach; how to plan, develop, and deliver an effective concept-based course; and how to improve and evaluate student learning with concepts. This new second edition also features two new chapters — one on how to conduct concept-based clinical experiences and another chapter on the future of concept-based interprofessional learning. You'll also find updated content, more of the highly helpful Misconceptions and Clarifications boxes, and a more streamlined design with added color and larger type. So whether you're teaching in an LPN, ADN, BSN, or MSN program, this insightful book is here to ensure a smooth execution concept-based teaching.
Framework for developing a concept-based curriculum provides guidance throughout the general steps associated with developing a CBC.
Strong foundation in how to teach within a concept-based curriculum dives into the nature of concepts, their function in the process of learning, and the importance of being consistent in the selection and implementation of concepts.
Balanced teaching strategies illustrate ways to enhance the conceptual approach through engaging learning activities and an open environment.
Success evaluation criteria explains the importance of analyzing evaluation data to determine the effectiveness of a new curriculum on meeting program learning outcomes.

NEW! Updated content reflects the latest research in the neuroscience of learning, insightful illustrations, and best practices in concept-based curriculum design and instruction.
NEW! Expanded use of Misconceptions and Clarifications boxes also reflects the latest research in conceptual learning to help clarify important concepts.
NEW! Added color improves teaching and learning value.
UNIQUE! New chapter on concept-based clinical experiences includes simulation and lab experiences, "live" clinical experiences, and clinical learning activities for inpatient, outpatient, community, and health systems-level experiences.
UNIQUE! New chapter on thinking conceptually and the future of concept-based interprofessional learning covers both the ways CBC is spreading beyond just nursing and how to encourage faculty to shift their thinking to develop reasoning and critical thinking skills in students versus rote learning of content.

1. The Conceptual Approach: Background and Benefits
2. Concepts in the Discipline of Nursing
3. Developing Concepts for Concept-Based Teaching
4. Developing a Concept-Based Curriculum
5. Conceptual Learning
6. Conceptual Teaching Strategies for the Classroom Setting
7. Conceptual Teaching Strategies for Clinical Settings
8. Evaluation of Student Learning and Program Evaluation
9. Advancing the Conceptual Approach in Nursing Through Evidence, Professional Development, and Interprofessional Education
Appendix A: Clinical Activities Focusing on Concepts
Appendix B: Preparing a Concept for Concept-Based Teachings: Explanation and Template
Index

Jean Foret Giddens, PhD, RN, FAAN, Robert Wood Johnson Foundation Executive Nurse Fellow, Dean and Professor, School of Nursing, Virginia Commonwealth University, Richmond, Virginia, Linda Caputi, EdD, MSN, RN, ANEF, CNE, Professor Emerita, College of DuPage, Glen Ellyn, Illinois President, Linda Caputi, Inc. and Beth L. Rodgers, PhD, RN, FAAN, Nursing Alumni Endowed Professor and Chair, Department of Adult Health and Nursing Systems, Virginia Commonwealth University, Richmond, Virginia