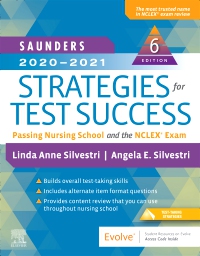 Publication Date:
08-20-2019
Saunders 2020-2021 Strategies for Test Success - Elsevier eBook on VitalSource, 6th Edition
Elsevier eBook on VitalSource
Publication Date:
08-20-2019
Help alleviate pre-test jitters with this essential resource for nursing students! Written by the most trusted experts in NCLEX® prep, Saunders 2020-2021 Strategies for Test Success, 6th Edition introduces tools for overcoming text anxiety and tactics for developing effective study habits. Essentially, it teaches students how to master the things that matter most on their nursing school exams: critical thinking, problem solving, and time management. This essential guide features over 1,200 practice questions and rationales to help students tackle anything from a routine quiz to the NCLEX. It also includes a wealth of proven tips and real-world hints to help students to confidently evaluate and identify the correct answer for a variety of test question types, including alternate item formats. Plus, additional questions on the Evolve website gives students even more preparation material!
1,200 review questions are included in the book and online, providing a 2-in-1 approach to learning strategies and test-taking skills
Increased focus on critical thinking uses different strategies to help you develop clinical judgment skills, and the ability to question data, and client abnormalities.
Helpful Tips for the Nursing Student highlight the most important concepts needed for exam success.
UNIQUE! Student-to-Student Hints highlight real life strategies that have helped other students graduate from nursing school and pass the NCLEX® exam.
Practice questions coded for the beginning, intermediate, or experienced student, making this book a useful tool throughout your nursing school career.
Clearly defined cognitive levels help if you are unfamiliar with this terminology and its significance.
Coverage of Interprofessionalism discussed where appropriate throughout text.
Priority concepts for each question help you to link your concept-based classes and NCLEX® prep.
A fun, 4-color design features cartoons and bold designs to help engage visual learners.

NEW! Clinical Judgment Situations and Next Generation NCLEX® (NGN) practice questions included on Evolve site let you apply strategies from the text in a realistic electronic testing environment.

Part I: Study and Test Preparation
1 Preparing for Nursing Examinations
2 Developing Study Skills
3 Reducing Test Anxiety
4 NCLEX® Preparation
Part II: Strategies for Success
5 Alternate Item Formats
6 How to Avoid "Reading into the Question"
7 Positive and Negative Event Queries
8 Questions Requiring Prioritization
9 Leading and Managing, Delegating, and Assignment-Making Questions
10 Communication Questions
11 Pharmacology, Medication, and Intravenous Calculation Questions
12 Additional Pyramid Strategies
Part III: Practice Tests
13 Foundations of Care Questions
14 Adult Health Questions
15 Mental Health Questions
16 Maternity Questions
17 Pediatric Questions
18 Pharmacology Questions
19 Delegating/Prioritizing Questions
20 Leadership/Management Questions

Linda Anne Silvestri, PhD, RN, FAAN, Nursing Instructor, University of Nevada, Las Vegas, School of Nursing, Las Vegas, Nevada; President and Owner, Nursing Reviews, Inc., Henderson, Nevada; Director and Owner, Professional Nursing Seminars, Inc., Henderson, Nevada; Elsevier, Author of NCLEX Review Resources, Next Generation NCLEX® (NGN) Subject Matter Expert and Consultant and Angela Elizabeth Silvestri, PhD, APRN, FNP-BC, CNE, Associate Professor & BSN Program Director, University of Nevada, Las Vegas, School of Nursing, Las Vegas, Nevada.