HESI/Saunders Online Review for the NCLEX-RN Examination (2 Year) (Access Code), 3rd Edition
Online Course - Access Card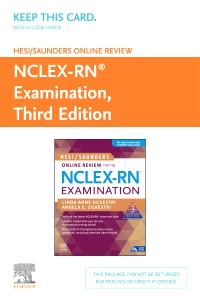 Incorporating the latest test plan, HESI/Saunders Online Review for the NCLEX-RN® Examination, 3rd Edition provides a unique comprehensive review experience with the convenience and interactivity of an online format. Perfect for students looking for a self-paced study tool, it features key nursing content organized by NCLEX Client Needs to prepare you for the NCLEX examination. A diagnostic pre-test taken at the beginning of the course provides you with a study calendar to guide you through the content modules. Each module is followed by a quiz to determine your mastery of the content. A comprehensive exam at the end of the course gives you a breakdown of your strengths and weaknesses. Plus, videos simulate a live review experience and help to clarify difficult concepts.
Duration for access to this product, which may be at the discretion of your institution, is up to 24 months. Elsevier reserves the right to restrict or remove access due to changes in product portfolio or other market conditions.
Trusted content from the bestselling Silvestri NCLEX authors and HESI live review courses is featured in a convenient, interactive, and flexible online format.
75-question diagnostic pre-test identifies your strengths and weaknesses and generates a study plan tailored to your specific needs.
Video footage mimics a live review course helping to clarify selected core, challenging topics that students typically struggle with on the NCLEX exam.
Over 2,500 questions and all alternate item format types are represented including multiple response, prioritizing, fill-in-the-blank, hot spot/illustration, graphic option, chart/exhibit, audio, and video.
Five 100-question Crossing the Finish Line: Practice Exams and a 265-question comprehensive exam provide you with a "dry run" for the board exam.
Ten content review modules include bulleted topic summaries, key terms and definitions, practice questions, and case studies—as well as images, animations, and video clips.
100-question exams included at the end of each module reinforce and test the content covered.

NEW! Incorporates the latest NCLEX-RN test plan to familiarize you with newly added content you may encounter on the exam.
NEW! Special Populations content focuses on nursing care of special and vulnerable populations.
NEW! Next Generation NCLEX item types are provided to assist in applying the skill of clinical judgment.
NEW! Module and lesson objectives are provided for each lesson to help guide learning.

I. CLIENT NEEDS
Course Orientation
Test-Taking Strategies
The Test Plan
Pre-Test
Study Calendar
Module 1: Developmental Stages and Transitions
Module 2: Health Promotion and Disease Prevention
Module 3: Mental Health Concepts
Module 4: Psychosocial Alterations
Module 5: Management of Care
Module 6: Safety and Infection Control
Module 7: Basic Care and Comfort
Module 8: Pharmacology and Intravenous Therapies
Module 9: Monitoring for Health Problems
Module 10: Physiological Health Problems
Crossing the Finish Line Practice Tests
Focus on Maternity Exam
Focus on Adult Health Exam
Focus on Mental Health Exam
Focus on Child Health Exam
Focus on Delegating/Prioritizing/Triage/Disaster Exam
Test Yourself Quizzes
Quiz 1
Quiz 2
Live Review Videos
Comprehensive Exam

Linda Anne Silvestri, PhD, RN, FAAN, Assistant Professor of Nursing, Clinical Coordinator, Nursing Program, Salve Regina University, Newport, Rhode Island; President, Professional Nursing Seminars, Inc., Charlestown, Rhode Island. and Angela Elizabeth Silvestri, PhD, APRN, FNP-BC, CNE, Assistant Professor, Touro University Nevada-School of Nursing, Henderson, Nevada.