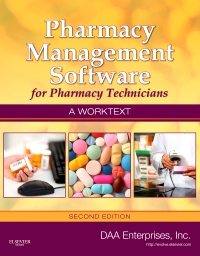 Publication Date:
05-19-2017
Pharmacy Management Software for Pharmacy Technicians: A Worktext - Elsevier eBook on VitalSource, 2nd Edition
Elsevier eBook on VitalSource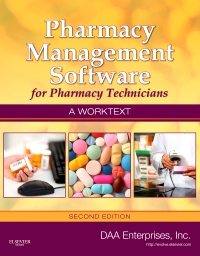 Publication Date:
05-19-2017
Or $0.00 with a valid access code
Gain a head start on your career as a pharmacy technician with Pharmacy Management Software for Pharmacy Technicians, 2nd Edition. This innovative software/worktext package incorporates the full version of real pharmacy management software to give you hands-on training performing the day-to-day tasks of a pharmacy technician just as you will on the job. Easy-to-follow, step-by-step instructions guide you through entering patient data, prescription/medication orders, and insurance information, reviewing inventory, and more, enabling you to acquire the skills and experience for professional success before you leave the classroom!
UNIQUE! Full version of DAA Enterprises' Visual Superscript pharmacy management software reflects the software programs you'll encounter in the workforce and enables you to work through realistic practice scenarios. Compatible with Windows 7, Vista, and XP.
UNIQUE! Fully functional patient record database corresponds to worktext exercises to provide realistic practice:

Adding new patients
Determining possible adverse reactions
Filling and refilling prescriptions
Examining a patient's prescription history
Identifying potential allergic reactions to drug ingredients
And more

Worktext activities and case studies walk you through essential pharmacy tasks just as you'll perform them on the job.
Detailed screenshots guide you through the pharmacy management software.
Study tools on the companion Evolve website provide technical support, laboratory tips, and additional practice.

UNIQUE! Enhanced institutional pharmacy coverage provides additional practice in:

Extemporaneous compounding

Total parenteral nutrition

IV label preparation

UNIQUE! Lab tips help you perform tasks more efficiently.
Convenient new design incorporates full-color software screenshots, perforated pages, and a spiral binding to help you easily find and apply information.

Introduction

Installation
Navigating Visual SuperScript: The Basics

Section I: Community Pharmacy Practice

Lab 1: Adding a Physician or Prescriber to the Database

Lab 2: Adding a New Patient to the Database

Lab 3: Making a Change to the Patient Profile or Prescriber Information

Lab 4: Adding Insurance Plans to the Database

Lab 5: Adding a Drug to the Database and Other Inventory Tasks

Lab 6: Entering a New Prescription

Lab 7: Obtaining a Refill Authorization

Lab 8: Processing a New Prescription for a Prior Drug Approval

Lab 9: Refilling, Transferring, Filing, and Prescription Reversal

Lab 10: Extemporaneous Compounding

Lab 11: Processing a New Prescription for an Insurance Patient

Lab 12: Blister Packing: Batch Filling for a Nursing Home

Section II: Institutional Pharmacy Practice

Lab 13: Entering New Intravenous Orders

Lab 14: Entering Total Parenteral Nutrition Orders

Lab 15: Entering New Chemotherapy Intravenous Orders

Section III: Reports

Lab 16: Control Drug Report

Lab 17: Daily Prescription Log Report

Lab 18: Customer History Report

Section IV: Assessment

Lab 19: Community Pharmacy Comprehensive Exercise

Lab 20: Institutional Pharmacy Comprehensive Exercise

Appendices

Appendix A: Sig Abbreviation Shortcuts

Appendix B: Community Prescriptions

Appendix C: Nonsterile Extemporaneous Compound Prescriptions

Appendix D: Intravenous Orders

Appendix E: Chemotherapy orders

Appendix F: Total Parenteral Nutrition Orders

DAA Enterprises, Inc.