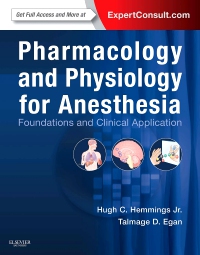 Publication Date:
05-12-2017
Pharmacology and Physiology for Anesthesia - Elsevier eBook on VitalSource, 1st Edition
Elsevier eBook on VitalSource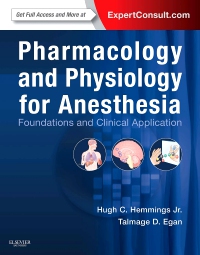 Publication Date:
05-12-2017
Or $0.00 with a valid access code
Better understand the complexities of pharmacology and physiology relevant to your practice with the brand-new medical reference book, Pharmacology and Physiology for Anesthesia. Drs. Hugh Hemmings and Talmage Egan provide the clinical insights you need to effectively administer anesthesia, ensuring patient safety and the most optimal outcomes.
"...This is a useful well-written textbook of pharmacology and physiology. There is a greater emphasis on the pharmacology, but both sciences are dealt with to a high standard...I am happy to recommend this book as a useful learning and reference source." Reviewed by: C.S Reilly on behalf of British Journal of Anaesthesia, Feb 2014
Access comprehensive, continually updated research on the physiology of organ systems and clinical topics in the pharmacology of anesthetic drugs.
Quickly and easily reference the information you need through user-friendly tables, figures, and algorithms, all presented in lavish full color throughout.
Understand the molecular mechanism of drug actions and identify key drug interactions that may complicate anesthesia with dedicated sections on these key areas.
Search the text and download images online at Expert Consult.

Section 1: Basic Principles of Pharmacology

Chapter 1: Mechanisms of Drug Action

Chapter 2: Pharmacokinetic and Pharmacodynamic Principles for Intravenous Anesthetics

Chapter 3: Pharmacokinetics of Inhaled Anesthetics

Chapter 4: Drug Metabolism and Pharmacogenetics

Chapter 5: Pharmacodynamic Drug Interactions

Chapter 6: Adverse Drug Reactions

Section 2: Nervous System

Chapter 7: Central Nervous System Physiology: Neurophysiology

Chapter 8: Central Nervous System Physiology: Cerebrovascular

Chapter 9: Intravenous Anesthetics

Chapter 10: Pharmacology of Inhales Anesthetics

Chapter 11: Drugs for Neuropsychiatric Disorders

Chapter 12: Autonomic Nervous System Physiology

Chapter 13: Autonomic Nervous System: Pharmacology

Chapter 14: Nociceptive Physiology

Chapter 15: Opioid Agonists and Antagonists

Chapter 16: Non-Opioid Analgesics

Chapter 17: Local Anesthetics

Chapter 18: Neuromuscular Physiology and Pharmacology

Chapter 19: Neuromuscular Blockers and Reversal Drugs

Section 3: Cardiovascular and Pulmonary Systems

Chapter 20: Cardiovascular Physiology: Cellular and Molecular Regulation

Chapter 21: Cardiovascular Physiology: Integrative Function

Chapter 22: Vasopressors and Inotropes

Chapter 23: Antihypertensive Drugs and Vasodilators

Chapter 24: Antiarrhythmic Drugs

Chapter 25: Pulmonary Physiology

Chapter 26: Pulmonary Pharmacology

Section 4: Gastrointestinal and Endocrine Systems

Chapter 27: Liver and Gastrointestinal Physiology

Chapter 28: Nutritional and Metabolic Therapy

Chapter 29: Pharmacology of Postoperative Nausea and Vomiting

Chapter 30: Endocrine Physiology

Chapter 31: Endocrine Pharmacology

Section 5: Fluid, Electrolyte and Hematologic Homeostasis

Chapter 32: Renal Physiology

Chapter 33: Intravascular Volume Replacement Therapy

Chapter 34: Electrolytes and Diuretics

Chapter 35: Blood and Coagulation

Chapter 36: Transfusion and Coagulation Therapy

Chapter 37: Anticoagulant and Antiplatelet Therapy

Hugh C. Hemmings, BS, MD, PhD, Joseph F. Artusio Jr. Professor and Chair of Anesthesiology, Professor of Pharmacology, Senior Associate Dean for Research,Weill Cornell Medicine; Anesthesiologist-in-Chief, New York-Presbyterian Hospital; Adjunct Professor, The Rockefeller University, New York, New York. and Talmage D. Egan, MD, Professor of Anesthesiology, Adjunct Professor of Pharmaceutics, Adjunct Professor of Bioengineering, Attending Anesthesiologist, Vice Chair for Research, K.C. Wong Presidential Endowed Chair, University of Utah School of Medicine, Salt Lake City, Utah.