Fordney's Medical Insurance, 15th Edition
Paperback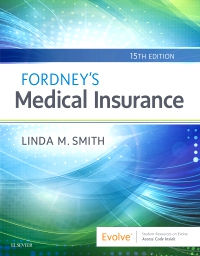 Free Shipping!
This item has low stock levels and may be back-ordered. We'll let you know if it is back-ordered, and you will not be charged until the item ships.
Get a solid foundation in insurance billing and coding! Trusted for more than 30 years, Fordney's Medical Insurance equips you with the medical insurance skills you need to succeed in any of today's outpatient settings. The 15th edition has been expanded to include inpatient insurance and billing and ambulatory surgical center billing. Updated coverage emphasizes the role of the medical insurance specialist in areas such as diagnostic coding, procedural coding, Medicare, HIPAA, and bill collection strategies. As with previous editions, all the plans that are most commonly encountered in clinics and physicians' offices are incorporated into the text, as well as icons for different types of payers, lists of key abbreviations, and numerous practice exercises that accurately guide you through the process of filling out claim forms. In addition, SimChart® for the Medical Office (SCMO) activities on the companion Evolve website give you the opportunity to practice using electronic medical records.
UNIQUE! Interactive UB-04 Form filler on Evolve gives you additional practice with inpatient Electronic Health Records.
Separate chapter on HIPAA Compliance in Insurance Billing, as well as Compliance Alerts throughout highlights important HIPAA compliance issues to ensure you are compliant with the latest regulations.
Separate chapter on documentation in the medical office covers the principles and rationales of medical documentation.
Increased focus on electronic filing/claims submission prepares you for the industry-wide transition to electronic claims submission.
Emphasis on the business of running a medical office and the importance of the medical insurance specialist prepares you for your role in the workplace.
Detailed examples of potential situations throughout text signal you to be attentive to these types of occurrences.
Specialized icons throughout text alert you to the connections and special considerations related to specific topics that medical insurance specialists need to be aware of.
Procedures clearly outline in step-by-step format detail common responsibilities of the medical insurance specialist.
SimChart® for the Medical Office (SCMO) application activities on the companion Evolve website add additional functionality to the insurance module on the SCMO roadmap.
Key terms are defined and emphasized throughout the text to reinforce your understanding of new concepts and terminology.

NEW! Expanded coverage of inpatient insurance billing, including diagnosis and procedural coding provides you with the foundation and skills needed to work in the physician office, outpatient, and inpatient setting.
NEW! Expanded coverage of Ambulatory Surgical Center (ASC) billing chapter provides you with the foundation and skills needed to work in this outpatient setting.
NEW! Updated information on general compliance issues, HIPAA, Affordable Care Act and coding ensures that you have the knowledge needed to enter today's ever-changing and highly regulated healthcare environment.

Unit One: Career Role and Responsibilities 1. Role of an Insurance Billing Specialist 2. Privacy, Security and HIPAA 3. Compliance, Fraud and Abuse

Unit Two: Introduction to the Revenue Cycle Process 4. Basics of Health Insurance 5. The Blue Plans, Private Insurance, and Managed Care Plans 6. Medicare 7. Medicaid and other State Programs 8. Tricare and Veterans' Health Care 9. Workers' Compensation 10. Disability Income Insurance and Disability Benefit Programs Unit Three: Documentation and Coding 11. Medical Documentation and the Electronic Health Record 12. Diagnostic Coding 13. Procedural Coding

Unit Four: Claims Submission in The Medical Office 14. The Paper Claim CMS-1500 15. The Electronic Claim

Unit Five: The Claim Follow Up and Payment Process 16. Receiving Payments and Insurance Problem Solving 17. Office and Insurance Collection Strategies

Unit Six: Healthcare Facility Billing 18. Ambulatory Surgical Center 19. Hospital Outpatient and Inpatient Billing Unit Seven: Employment 20. Seeking a Job and Attaining Professional Advancement

Linda Smith, CPC, CPC-1, CEMC, PCS, CMBS, Consultant/Educator, MedOffice Resources, Greene, New York.