Nursing Key Topics Review: Fluids and Electrolytes Elsevier eBook on VitalSource (Retail Access Card)
,
Elsevier eBook on VitalSource - Access Card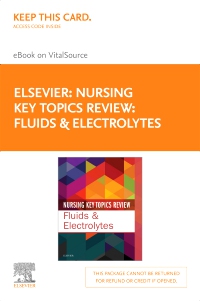 Free Shipping!
This item has low stock levels and may be back-ordered. We'll let you know if it is back-ordered, and you will not be charged until the item ships.
Looking for a way to master fluids and electrolytes in the most time-efficient way possible? Instead of relying on overwhelming textbooks, turn to the focused review option that was designed for the specific study needs of today's nursing students. Nursing Key Topics Review: Fluids & Electrolytes covers only the most important and relevant information on fluids and electrolytes and organizes it into bulleted summary lists, illustrations, and tables to make the information easier to digest and remember. NCLEX-style review questions are also interspersed throughout the material to further focus your attention on the most important concepts and test your mastery. It's everything about fluids and electrolytes you need to know. And nothing you don't!
Mobile web app with audio review content enables you to review on the go.
Format based on student input ensures the review guide fits the needs of today's busy students.
NCLEX-style review questions with answers and rationales are infused throughout the guide to assess your retention and understanding of material.
Emphasis on critical, practical, and relevant information reduces overall study time.
Tables and illustrations further enhance your learning and retention.
Bulleted content helps you cover more information in a shorter amount of time.

1.Concepts of Body Fluids
2.Fluid and Electrolyte Balance and Imbalance
3.Concepts of Fluid Volume Deficit and Excess
4.Concepts of Acid-Base Balance
5.Nursing Assessment
6.Sodium Imbalance
7.Chloride Imbalance
8.Potassium Imbalance
9.Phosphorous Imbalance
10.Magnesium Imbalance
11.Calcium Imbalance
12.Concepts of Minerals & Elements
13.Fluid and Electrolyte Balance in Neonates, Infants, and Children
14.Fluid and Electrolyte Balance in Special Populations
15.Fluid Balance in Surgery and Trauma
16.Fluids and Electrolytes in Congestive Heart Failure
17.Fluids and Electrolytes in Renal Failure
18.Fluids and Electrolytes in Brain Injuries
19.Fluids and Electrolytes in Diabetic Ketoacidosis and Hyperglycemic Hyperosmolar State
20.Fluids and Electrolytes in Acute Infection

Elsevier