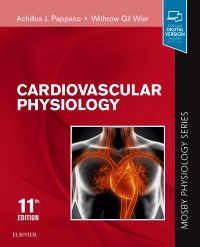 Publication Date:
10-29-2018
Cardiovascular Physiology, 11th Edition
Paperback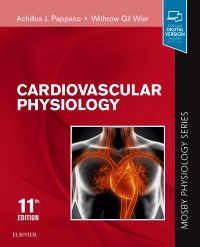 Publication Date:
10-29-2018
Free Shipping!
In Stock
This item has low stock levels and may be back-ordered. We'll let you know if it is back-ordered, and you will not be charged until the item ships.
Gain a foundational understanding of cardiovascular physiology and how the cardiovascular system functions in health and disease. Cardiovascular Physiology, a volume in the Mosby Physiology Series, explains the fundamentals of this complex subject in a clear and concise manner, while helping you bridge the gap between normal function and disease with pathophysiology content throughout the book.
Chapter 1 OVERVIEW OF THE CIRCULATION AND BLOOD

The Circulatory System

Blood

Erythrocytes

Leukocytes

Lymphocytes

Platelets

Blood Is Divided into Groups by Antigens Located on Erythrocytes

Summary

Case 1-1

Chapter 2 EXCITATION: THE CARDIAC ACTION POTENTIAL

Cardiac Action Potentials Consist of Several Phases

The Principal Types of Cardiac Action Potentials Are the Slow and Fast Types

Ionic Basis of the Resting Potential

The Fast Response Depends Mainly on Voltage-Dependent Sodium Channels

Ionic Basis of the Slow Response

Conduction in Cardiac Fibers Depends on Local Circuit Currents

Conduction of the Fast Response

Conduction of the Slow Response

Cardiac Excitability Depends on the Activation and Inactivation of Specific Currents

Fast Response

Slow Response

Effects of Cycle Length

Summary

Case 2-1

Chapter 3 AUTOMATICITY: NATURAL EXCITATION OF THE HEART

The Heart Generates Its Own Pacemaking Activity

Sinoatrial Node

Ionic Basis of Automaticity

Overdrive Suppression

Atrial Conduction

Atrioventricular Conduction

Ventricular Conduction

An Impulse Can Travel Around a Reentry Loop

Afterdepolarizations Lead to Triggered Activity

Early Afterdepolarizations

Delayed Afterdepolarizations

Electrocardiography Displays the Spread of Cardiac Excitation

Scalar Electrocardiography

Dysrhythmias Occur Frequently and Constitute Important Clinical Problems

Altered Sinoatrial Rhythms

Atrioventricular Transmission Blocks

Premature Depolarizations

Ectopic Tachycardias

Fibrillation

Summary

Case 3-1

Chapter 4 THE CARDIAC PUMP

The Microscopic and Gross Structures of the Heart

Cardiac Muscle (myocardial) Cell Morphology

Structure of the Heart: Atria, Ventricles, and Valves

The Force of Cardiac Contraction Is Determined by Excitation-Contraction Coupling and the Initial Sarcomere Length of the Myocardial Cells

Excitation-Contraction Coupling Is Mediated by Calcium

Mechanics of Cardiac Muscle

The Sequential Contraction and Relaxation of the Atria and Ventricles Constitute the Cardiac Cycle

Ventricular Systole

Echocardiography Reveals Movement of the Ventricular Walls and of the Valves

The Two Major Heart Sounds Are Produced Mainly by Closure of the Cardiac Valves

The Pressure-Volume Relationships in the Intact Heart

Passive or Diastolic Pressure-Volume Relationship

Active or End-Systolic Pressure-Volume Relationship

Pressure and Volume during the Cardiac Cycle: The P-V Loop

Preload and Afterload during the Cardiac Cycle

Contractility

The Fick Principle Is Used to Determine Cardiac Output

Metabolism of ATP and its Relation to Mechanical Function

Fatty Acid Metabolism

Carbohydrate Metabolism

Interrelation between Fatty Acid and Carbohydrate Metabolism

Effects of plasma substrate and insulin levels

Cardiac O2 Consumption and the Link between Ventricular Function and Cardiac Metabolism

Summary

Case 4-1

Chapter 5 REGULATION OF THE HEARTBEAT

Heart Rate is Controlled Mainly by the Autonomic Nerves

Parasympathetic Pathways

Sympathetic Pathways

Higher Centers Also Influence Cardiac Performance

Heart Rate Can Be Regulated via the Baroreceptor Reflex

The Bainbridge Reflex and Atrial Receptors Regulate Heart Rate

Respiration Induces a Common Cardiac Dysrhythmia

Activation of the Chemoreceptor Reflex Affects Heart Rate

Ventricular Receptor Reflexes Play a Minor Role in the Regulation of Heart Rate

Myocardial Performance Is Regulated by Intrinsic Mechanisms

The Frank-Starling Mechanism Is an Important Regulator of Myocardial Contraction Force

Changes in Heart Rate Affect Contractile Force

Myocardial Performance Is Regulated by Nervous and Humoral Factors

Nervous Control

Cardiac Performance Is Also Regulated by Hormonal Substances

Summary

Case 5-1

Chapter 6 HEMODYNAMICS

Velocity of the Bloodstream Depends on Blood Flow and Vascular Area

Blood Flow Depends on the Pressure Gradient

Relationship Between Pressure and Flow Depends on the Characteristics of the Conduits

Resistance to Flow

Resistances in Series and in Parallel

Flow May Be Laminar or Turbulent

Shear Stress on the Vessel Wall

Rheologic Properties of Blood

Summary

Case 6-1

Chapter 7 THE ARTERIAL SYSTEM

The Hydraulic Filter Converts Pulsatile Flow to Steady Flow

Arterial Elasticity Compensates for the Intermittent Flow Delivered by the Heart

The Arterial Blood Pressure Is Determined by Physical and Physiological Factors

Mean Arterial Pressure

Cardiac Output

Peripheral Resistance

Pulse Pressure

Stroke Volume

Arterial Compliance

Total Peripheral Resistance and Arterial Diastolic Pressure

The Pressure Curves Change in Arteries at Different Distances from the Heart

Blood Pressure Is Measured by a Sphygmomanometer in Human Patients

Summary

Case 7-1

Chapter 8 The MICROCIRCULATION AND LYMPHATICS

Functional Anatomy

Arterioles Are the Stopcocks of the Circulation

Capillaries Permit the Exchange of Water, Solutes, and Gases

The Law of Laplace Explains How Capillaries Can Withstand High Intravascular Pressures

The Endothelium Plays an Active Role in Regulating the Microcirculation

The Endothelium is at the Center of Flow-Initiated Mechanotransduction

The Endothelium Plays a Passive Role in Transcapillary Exchange

Diffusion Is the Most Important Means of Water and Solute Transfer Across the Endothelium

Diffusion of Lipid-Insoluble Mole

Achilles J. Pappano, PhD, Professor; Department of Pharmacology and Calhoun Cardiology Center; University of Connecticut Health Center; Farmington, CT and Withrow Gil Wier, PhD, Professor, University of MD Baltimore, Dept. of Physiology, Baltimore, Maryland