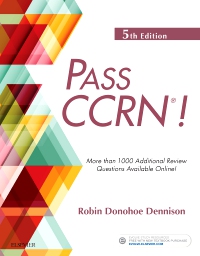 Publication Date:
07-12-2018
PASS CCRN®! - Elsevier eBook on VitalSource, 5th Edition
Elsevier eBook on VitalSource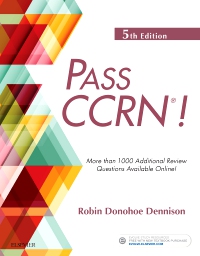 Publication Date:
07-12-2018
Or $0.00 with a valid access code
Fully updated to mirror the test plan for the latest CCRN®-Adult certification exam, Dennison's widely acclaimed PASS CCRN®! is known for its targeted yet comprehensive content review, innovative learning strategies, and meticulous accuracy. This new fifth edition addresses each section of the most current CCRN® exam in detail, with review content presented in a quick-reference outline format and supported by a wealth of illustrations, tables, and algorithms. Learning activities for each chapter, as well as more than 1,000 review questions on the companion Evolve website, offer valuable practice and test-taking experience to prepare you for success on the CCRN®-Adult exam.
More than 1,000 multiple-choice review questions on the companion Evolve website offer convenient electronic access and can be answered in Study Mode or Exam Mode.
Outline-style review helps ensure that you have mastered essential content for the CCRN®-Adult exam.
Engaging, chapter-ending learning activities provide fun and stimulating ways for you to learn critical concepts.
Content is supported by a wealth of tables, illustrations, and completely new algorithms to help clarify complex concepts.

NEW! Completely updated content follows the latest CCRN®-Adult exam blueprint to ensure that you have the most current information for exam preparation.
NEW! Integumentary and Musculoskeletal Systems chapter reflects the latest CCRN® exam test plan organization.
NEW! Thorough revisions to the Professional Caring and Ethical Practice and Multisystem chapters match the latest CCRN®-Adult exam.

1. The Critical Care Certification Examination 2. Professional Caring and Ethical Practice 3. The Cardiovascular System 4. The Pulmonary System 5. The Neurologic System 6. The Endocrine System 7. The Gastrointestinal System 8. The Renal System 9. The Hematologic and Immunologic Systems 10. The Integumentary and Musculoskeletal Systems NEW! 11. Multisystem 12. Behavioral/ Psychosocial

Answers to Learning Activities

References and Recommended Readings [Online]

Appendices:

A. Common Abbreviations and Acronyms Used in Critical Care Nursing B. Normal Laboratory Values C. Formulae Significant to Critical Care Nursing D. Dysrhythmias: Etiology, Criteria, Significance, and Management

Index

Robin Donohoe Dennison, DNP, CNE, NEA-BC, NPD-BC, Educator, Consultant, Author, Saint Augustine, Florida