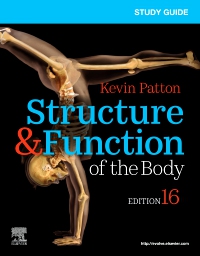 Study Guide for Structure & Function of the Body
, 16th Edition
Paperback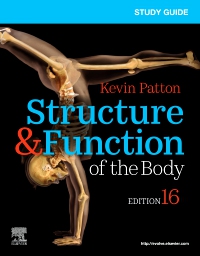 Not Yet Available
Coming Soon!
Expected availability date: 11-01-2019
Help your students master the core terms, concepts, and processes related to the anatomy and physiology of the human body with the Study Guide for Structure & Function of the Body, 16th Edition! Corresponding to chapters from the main text, this comprehensive learning tool contains a variety of exercises and questions — including, multiple choice, true or false, labeling, matching, application questions, crossword puzzles, and more — to help students review, retain, and apply important A&P concepts.
Crossword puzzle activities encourage the use of new vocabulary words and emphasize the proper spelling of terms.
Application questions promote critical thinking and making judgments based on content you've already learned.
Brief synopses of the core concepts at the start of each chapter provide a quick review of essential content.
Diagrams and labeling exercises include key features marked by numbers for identification.
Matching, fill-in-the-blank, multiple choice, true/false and identify exercises for each chapter reinforce your understanding of chapter content.
Answers to exercises are found in the back of the guide, along with references to the appropriate textbook page.

NEW! Updated content reflects the changes made to the new edition of the Structure and Function text.

1. Introduction to the Body 2. Chemistry of Life 3. Cells 4. Tissues 5. Organ Systems 6. Skin and Membranes 7. Skeletal System 8. Muscular System 9. Nervous System 10. Senses 11. Endocrine System 12. Blood 13. Cardiovascular System 14. Lymphatic System and Immunity 15. Respiratory System 16. Digestive System 17. Nutrition and Metabolism 18. Urinary System 19. Fluid and Electrolyte Balance 20. Acid-Base Balance 21. Reproductive Systems 22. Growth, Development, and Aging

Answer Key

Kevin T. Patton, PhD, Professor of Anatomy & Physiology Instruction, New York Chiropractic College, Seneca Falls, New York; Professor Emeritus of Life Sciences, St. Charles Community College, Cottleville, Missouri; Assistant Professor Emeritus of Physiology, Course Director Emeritus in Human Physiology, St. Louis University Medical School, St. Louis, Missouri, USA, Gary A. Thibodeau, PhD, Chancellor Emeritus and Professor Emeritus of Biology, University of Wisconsin, River Falls, River Falls, Wisconsin, USA and Linda Swisher, RN, EdD
Not Yet Available
Coming Soon!
Expected availability date: 11-01-2019