Klaus and Fanaroff's Care of the High-Risk Neonate, 7th Edition
Hardcover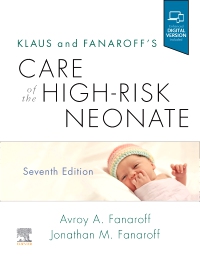 Trusted by neonatologists for more than 40 years, Klaus and Fanaroff's Care of the High-Risk Neonate provides unique, authoritative coverage of technological and medical advances in this challenging field, and includes personal and practical editorial comments that are the hallmark of this renowned text. The 7th Edition helps you take advantage of recent advances in the NICU that have improved patient care, outcomes, and quality of life, with new coverage of genetics and imaging, new cases and commentary throughout, new contributors, and much more.
1. Patient Safety, Quality, and Evidence-Based Medicine
2. Antenatal and Intrapartum Care of the High-Risk Infant
3. Resuscitation and Initial Stabilization
4. Physical Growth Physical Examination of the Newborn Infant and the Physical Environment
5. Nutrition and Selected Disorders of the Gastrointestinal Tract
Part 1: Nutrition for the High-Risk Infant
Part 2: Selected Disorders of the Gastrointestinal Tract
Part 3: Necrotizing Enterocolitis
6. Genetics, Inborn Errors of Metabolism, and Newborn Screening
7. Care of the Parents
8. Developmental Care—Understanding and Applying the Science
9. Respiratory Problems
10. Assisted Ventilation
11. Glucose, Calcium, and Magnesium
12. Neonatal Hyperbilirubinemia
13. Infections in the Neonate
14. The heart
15. The Kidney
16. Hematologic Problems
17. Neonatal Brain Disorders
18. Neonatal Imaging
19.The Outcome of Neonatal Intensive Care
20.Ethical Issues

Avroy A. Fanaroff, MD, FRCPE, FRCPCH, Emeritus Professor, Pediatrics and Reproductive Biology, Case Western Reserve University School of Medicine; Emeritus Eliza Henry Barnes Chair in Neonatology, Rainbow Babies and Children's Hospital, Cleveland, Ohio and Jonathan M Fanaroff, MD, JD, FAAP., Division of Neonatology, Co-Director of the Neonatal Intensive Care Unit and Director of the Rainbow Center for Pediatric Ethics at University Hospitals Rainbow Babies & Children's Hospital; Associate Professor, Pediatrics, Case Western Reserve University School of Medicine.