Gabbe's Obstetrics Essentials: Normal & Problem Pregnancies Elsevier eBook on VitalSource
,
Elsevier eBook on VitalSource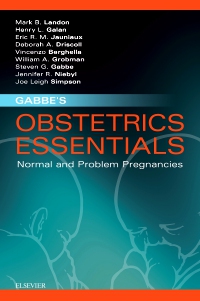 Or $0.00 with a valid access code
Ideal for residents, fellows in training, and obstetric practitioners who need a quick review in practice, Gabbe's Obstetrics Essentials is a portable, high-yield reference designed to put must-know obstetric information at your fingertips. Taken from Gabbe's Obstetrics: Normal and Problem Pregnancies, this concise resource compiles the most essential information from the best-selling text into one convenient handbook. You'll find key content in an easy-to-read bulleted format, providing a well-rounded and authoritative overview of all aspects of obstetrics.
SECTION I

Physiology,

Chapter 1

Placental Anatomy and Physiology, 

Chapter 2

Fetal Development and Physiology, 

Chapter 3

Maternal Physiology,

Chapter 4

Maternal-Fetal Immunology, 

Chapter 5

Developmental Origins of Adult Health and Disease,

SECTION II

Prenatal Care,

Chapter 6

Preconception and Prenatal Care, 

Chapter 7

Nutrition During Pregnancy,

Chapter 8

Drugs and Environmental Agents in Pregnancy and Lactation: Teratology, Epidemiology, 

Chapter 9

Obstetric Ultrasound: Imaging, Dating, Growth, and Anomaly, 

Chapter 10

Genetic Screening and Prenatal Genetic Diagnosis, 

Chapter 11

Antepartum Fetal Evaluation, 

SECTION III

Intrapartum Care, 

Chapter 12

Normal Labor and Delivery, 

Chapter 13

Abnormal Labor and Induction of Labor, 

Chapter 14

Operative Vaginal Delivery,

Chapter 15

Intrapartum Fetal Evaluation, 

Chapter 16

Obstetric Anesthesia, 

Chapter 17

Malpresentations, 

Chapter 18

Antepartum and Postpartum Hemorrhage, 

Chapter 19

Cesarean Delivery, 

Chapter 20

Vaginal Birth After Cesarean Delivery, 

Chapter 21

Placenta Accreta, 

SECTION IV

Postpartum Care, 

Chapter 22

The Neonate, 

Chapter 23

Postpartum Care and Long-Term Health Considerations, 

Chapter 24

Lactation and Breastfeeding, 

SECTION V

Complicated Pregnancy, 

Chapter 25

Surgery During Pregnancy, 

Chapter 26

Trauma and Related Surgery in Pregnancy, 

Chapter 27

Early Pregnancy Loss and Stillbirth, 

Chapter 28

Cervical Insufficiency, 

Chapter 29

Preterm Labor and Birth, 

Chapter 30

Premature Rupture of the Membranes, 

Chapter 31

Preeclampsia and Hypertensive Disorders, 

Chapter 32

Multiple Gestations, 

Chapter 33

Intrauterine Growth Restriction, 

Chapter 34

Red Cell Alloimmunization, 

Chapter 35

Amniotic Fluid Disorders, 

SECTION VI

Pregnancy and Coexisting Disease,

Chapter 36

Prolonged and Postterm Pregnancy,

Chapter 37

Heart Disease in Pregnancy, 

Chapter 38

Respiratory Disease in Pregnancy,

Chapter 39

Renal Disease in Pregnancy,

Chapter 40

Diabetes Mellitus Complicating Pregnancy, 

Chapter 41

Obesity in Pregnancy, 

Chapter 42

Thyroid and Parathyroid Diseases in Pregnancy, 

Chapter 43

Pituitary and Adrenal Disorders in Pregnancy, 

Chapter 44

Hematologic Complications of Pregnancy, 

Chapter 45

Thromboembolic Disorders in Pregnancy,

Chapter 46

Collagen Vascular Diseases in Pregnancy, 

Chapter 47

Hepatic Disorders During Pregnancy, 

Chapter 48

Gastrointestinal Disorders During Pregnancy, 

Chapter 49

Neurologic Disorders in Pregnancy, 

Chapter 50

Malignant Diseases and Pregnancy, 

Chapter 51

Skin Disease and Pregnancy, 

Chapter 52

Maternal and Perinatal Infection: Chlamydia, Gonorrhea, and Syphilis in Pregnancy, 

Chapter 53

Maternal and Perinatal Infection in Pregnancy: Viral, 

Chapter 54

Maternal and Perinatal Infection in Pregnancy: Bacterial, 

Chapter 55

Mental Health and Behavioral Disorders in Pregnancy, 

SECTION VII

Legal and Ethical Issues in Perinatology,

Chapter 56

Patient Safety and Quality Measurement in Obstetric Care, 

Chapter 57

Ethical and Legal Issues in Perinatology,

Chapter 58

Improving Global Maternal Health: Challenges and Opportunities, 

Appendix I

Normal Values in Pregnancy and Ultrasound Measurements, 

Appendix II

Anatomy of the Pelvis, 

Appendix III

Glossary of Key Abbreviations,

Index,

Mark B Landon, MD, Richard L. Meiling Professor and Chair, Department of Obstetrics and Gynecology, The Ohio State University College of Medicine, Columbus, Ohio, Henry L Galan, MD, Professor, Chief of Maternal-Fetal Medicine, Department of Obstetrics and Gynecology, Aurora, Colorado, Eric R. M. Jauniaux, MD, PhD, FRCOG, Professor/Honorary Consultant, Academic Department of Obstetrics & Gynaecology, University College London, Royal Free Campus, London, United Kingdom, Deborah A Driscoll, MD, Luigi Mastroianni Professor and Chair, Department of Obstetrics and Gynecology, Perelman School of Medicine at the University of Pennsylvania, Philadelphia, Pennsylvania, Vincenzo Berghella, MD, Professor and Chair, Department of Obstetrics and Gynecology, University of Pennsylvania School of Medicine, Hospital of the University of Pennsylvania, Philadelphia, Pennsylvania, William A Grobman, MD, MBA, Professor in Obstetrics and Gynecology-Maternal Fetal Medicine, Center for Healthcare Studies - Institute for Public Health and Medicine and Preventive Medicine, Chicago, Illinois, Steven G. Gabbe, MD, Emeritus Chief Executive Officer, The Ohio State University Wexner Medical Center; Professor of Obstetrics and Gynecology, The Ohio University College of Medicine, Columbus, Ohio, Jennifer R. Niebyl, MD, Professor, Department of Obstetrics and Gynecology, University of Iowa, Carver College of Medicine, University of Iowa Hospitals and Clinics, Iowa City, Iowa and Joe Leigh Simpson, MD, Senior Vice President for Research and Global Programs, March of Dimes Foundation, White Plains, New York; Professor Obstetrics and Gynecology; Professor of Human and Molecular Genetics; Formerly Executive Associate, Dean for Academic Affairs, Herbert Wertheim College of Medicine, Florida International University, Miami, Florida