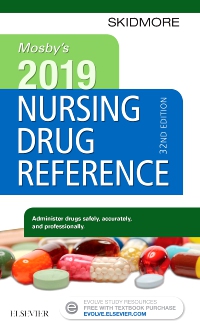 Mosby's 2019 Nursing Drug Reference
, 32nd Edition
Paperback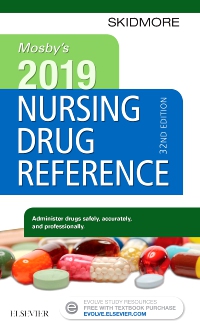 This item has low stock levels and may be back-ordered. We'll let you know if it is back-ordered, and you will not be charged until the item ships.
Put the most trusted name in nursing in your students' hands. Mosby's 2019 Nursing Drug Reference is a full-color portable nursing drug handbook that makes it easy to find the most vital information on the drugs that nurses administer most frequently. More than 5,000 drugs are profiled in the text and on the free app — including 15 new entries for drugs and drug therapies recently approved by the FDA. Plus, no other drug guide places a higher emphasis on patient safety, with Black Box Warnings for dangerous adverse reactions, Safety Alerts for situations requiring special attention, and a focus on both common and life-threatening side effects of 50 common drug classes. This 32nd edition proves once again why Mosby's is the bestselling drug reference for nurses on the market!
Coverage of more than 5,000 generic and trade-name drugs provides information for almost every drug you're likely to encounter in clinicals.
Black Box Warnings provide alerts to FDA warnings of dangerous or life-threatening drug reactions.
Safety Alert icon highlights the most critical drug interactions and side effects.
Common and life-threatening side effects are organized by body system, showing signs to watch for during assessments.
IV drug administration coverage in bold highlight dosage and IV administration instructions, including safety considerations and Y-site, syringe, and additive compatibilities.
Alphabetical organization by generic name provides quick and easy access to specific drugs, and a full-color design highlights important information.
Nursing Process steps are used as the framework for organizing all nursing care information.
Cross-references indicate drug information that may be found in the appendices.
Complete pharmacokinetic information includes the mechanism and absorption of the drug as well as its action, duration, and excretion.

NEW! 15 added monographs provide up-to-date content on newly released, FDA-approved drugs and drug therapies.
NEW! BEERS indications included for selected monographs.
NEW! Drugs with genetic indications identifiable by easy to spot icon.

(Tentative)

Drug categories Alpha-adrenergic blockers Anesthetics--general/local Antacids Anti-alzheimer agents Antianginals Antianxiety agents Antiasthmatics Anticholinergics Anticoagulants Anticonvulsants Antidepressants Antidiabetics Antidiarrheals Antidysrhythmics Antiemetics Antifungals (systemic) Antihistamines Antihypertensives Antiinfectives Antilipidemics Antineoplastics Antiparkinson agents Antiplatelets Antipsychotics Antipyretics Antiretrovirals Antituberculars Antitussives/expectorants Antivirals Beta-adrenergic blockers Bone resorption inhibitors Calcium channel blockers Cardiac glycosides Cholinergics Cholinergic blockers Corticosteroids Diuretics Histamine H2 antagonists Immunosuppressants Laxatives Neuromuscular blocking agents Nonsteroidal antiinflammatories Opioid analgesics Salicylates Sedatives/hypnotics Skeletal muscle relaxants Thrombolytics Thyroid hormones Vasodilators Vitamins

Individual Drugs in A-Z Format

Appendices A. Selected new drugs B. Recent FDA drug approvals C. Ophthalmic, otic, nasal, and topical products D. Vaccines and toxoids E. Antitoxins and antivenins F. Herbal products G. Combination products H. Medications that may be inappropriate for geriatric patients I. Drugs metabolized by known P450's J. Safety in handling chemotherapeutic agents K. High-alert drugs L. Controlled substance chart M. Immunization schedules for children and adolescents N. High-alert Canadian medications O. Canadian controlled substance chart P. Canadian recommended immunization schedules for infants and children Q. FDA pregnancy categories R. Weights and equivalents S. Abbreviations

Linda Skidmore-Roth, RN, MSN, NP, Consultant, Littleton, CO; Former Nursing Faculty, New Mexico State University, Las Cruces, NM; El Paso Community College, El Paso, TX
This item has low stock levels and may be back-ordered. We'll let you know if it is back-ordered, and you will not be charged until the item ships.