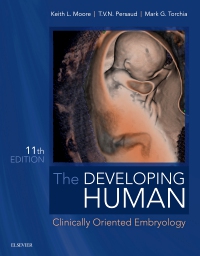 Publication Date:
03-01-2019
The Developing Human - Elsevier eBook on VitalSource, 11th Edition
Elsevier eBook on VitalSource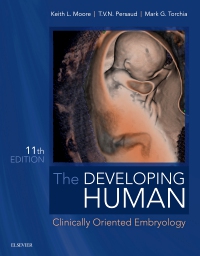 Publication Date:
03-01-2019
Or $0.00 with a valid access code
Extensively revised to incorporate recent research and current clinical practice, The Developing Human: Clinically Oriented Embryology, 11th Edition, covers all aspects of normal and abnormal embryonic and fetal development. In a clear, concise manner and lavishly illustrated throughout, this textbook is designed to successfully meet the needs of medical and health sciences profession students, as well as those in graduate programs. It provides an easy-to-digest, comprehensive review of what can be a complex and challenging subject. BONUS online features such as multiple-choice questions and narrated animations further support student success.
Access to this product, which may be at the discretion of your institution, is up to 3 years of online and perpetual offline access. Elsevier reserves the right to restrict or remove access due to changes in product portfolio or other market conditions.
1 Introduction to Human Development
2 First Week of Human Development
3 Second Week of Human Development
4 Third Week of Human Development
5 Fourth to Eighth Weeks of Human Development
6 Fetal Period: Ninth Week to Birth
7 Placenta and Fetal Membranes
8 Body Cavities, Mesenteries, and Diaphragm
9 Pharyngeal Apparatus, Face, and Neck
10 Respiratory System
11 Alimentary System
12 Urogenital System
13 Cardiovascular System
14 Skeletal System
15 Muscular System
16 Development of Limbs
17 Nervous System
18 Development of Eyes and Ears
19 Integumentary System
20 Human Birth Defects
21 Common Signaling Pathways Used During Development

Keith L. Moore, BA, MSc, PhD, DSc, FIAC, FRSM, FAAA, Professor Emeritus, Division of Anatomy, Department of Surgery, Former Professor and Chair, Department of Anatomy and Associate Dean for Basic Medical Sciences, Faculty of Medicine, University of Toronto, Toronto, Ontario, Canada, Former Professor and Head of Anatomy, Faculty of Medicine, University of Manitoba, Winnipeg, Manitoba, Canada, T. V. N. Persaud, MD, PhD, DSc, FRCPath (Lond.), Professor Emeritus and Former Head, Department of Human Anatomy and Cell Science, Professor of Pediatrics and Child Health Associate Professor of Obstetrics, Gynecology, and Reproductive Sciences, Faculty of Medicine, University of Manitoba Winnipeg, Manitoba, Canada, Visiting Professor of Anatomy and Embryology, St. George's University, Grenada, West Indies and Mark G. Torchia, MSc, PhD, Associate Professor and Director of Development, Department of Surgery, Faculty of Medicine, University of Manitoba, Director of Centre for Advancement of Teaching and Learning, University of Manitoba