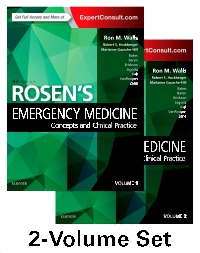 Publication Date:
11-03-2017
Rosen's Emergency Medicine: Concepts and Clinical Practice - Elsevier eBook on Vital Source, 9th Edition
Elsevier eBook on VitalSource
Publication Date:
11-03-2017
Or $0.00 with a valid access code
Since its revolutionary first edition in 1983, Rosen's Emergency Medicine set the standard for reliable, accessible, and comprehensive information to guide the clinical practice of emergency medicine. Generations of emergency medicine residents and practitioners have relied on Rosen's as the source for current information across the spectrum of emergency medicine practice.. The 9th Edition continues this tradition of excellence, offering the unparalleled clarity and authority you've come to expect from the award-winning leader in the field. Throughout the text, content is now more concise, clinically relevant, and accessible than ever before – meeting the needs of today's increasingly busy emergency medicine practitioner.
Delivers clear, precise information, focused writing and references; relevant, concise information; and generous use of illustrations provide definitive guidance for every emergency situation.

Offers the most immediately relevant content of any emergency medicine reference, providing diagnostic and treatment recommendations with clear indications and preferred actions.

Presents the expertise and knowledge of a new generation of editors, who bring fresh insights and new perspectives to the table.

Online content includes 1,200 questions and answers, as well as select video clips showing how to best perform key procedures.

Includes more than 550 new figures, including new anatomy drawings, new graphs and algorithms, and new photos.

Provides diligently updated content throughout, based on only the most recent and relevant medical literature.

Provides improved organization in sections to enhance navigation and six new chapters: Airway Management for the Pediatric Patient; Procedural Sedation and Analgesia for the Pediatric Patient; Drug Therapy for the Pediatric Patient; Co-Morbid Medical Emergencies During Pregnancy; Drug Therapy in the Geriatric Patient; and Global and Humanitarian Emergency Medicine.

Expert Consult™ eBook version included with purchase. This enhanced eBook experience allows you to search all of the text, figures, Q&As, and references from the book on a variety of devices.

Rosen's Emergency Medicine, 9/e

Preface

PART I Fundamental Clinical Concepts

Section One CRITICAL MANAGEMENT PRINCIPLES

1. Arway

2. Mechanical Ventilation and Noninvasive Ventilatory Support

3. Pain Management

4. Procedural Sedation and Analgesia

5. Monitoring the Emergency Patient

6. Shock

7. Brain Resuscitation

8. Adult Resuscitation

Section Two SIGNS, SYMPTOMS, AND PRESENTATIONS

9. Fever in the Adult Patient

10. Weakness

11. Cyanosis

12. Syncope

13. Coma and Depressed Level of Consciousness

14. Confusion

15. Seizures

16. Dizziness and Vertigo

17. Headache

18. Diplopia

19. Red and Painful Eye

20. Sore Throat

21. Hemoptysis

22. Dyspnea

23. Chest Pain

24. Abdominal Pain

25. Jaundice

26. Nausea and Vomiting

27. Gastrointestinal Bleeding

28. Diarrhea

29. Constipation

30. Acute Pelvic Pain

31. Vaginal Bleeding

32. Back Pain

PART II Trauma

Section One GENERAL CONCEPTS and SYSTEM INJURIES

33. Multiple Trauma

34. Head Trauma

35. Facial Trauma

36. Spinal Injuries

37. Neck

38. Thoracic Trauma

39. Abdominal Trauma

40. Genitourinary System

41. Peripheral Vascular Injury

Section Two ORTHOPEDIC LESIONS

42. General Principles of Orthopedic Injuries

43. Hand

44. Wrist and Forearm

45. Humerus and Elbow

46. Shoulder

47. Musculoskeletal Back Pain

48. Pelvis

49. Femur and Hip

50. Knee and Lower Leg

51. Ankle and Foot

Section Three SOFT TISSUE INJURIES

52. Wound Management Principles

53. Foreign Bodies

54. Mammalian Bites

55. Venomous Animal Injuries

56. Thermal Burns

57. Chemical Injuries

Section Four VIOLENCE AND ABUSE

58. Sexual Assault

59. Intimate Partner Violence and Abuse

PART III Medicine and Surgery

Section One HEAD AND NECK DISORDERS

60. Oral Medicine

61. Ophthalmology

62. Otolaryngology

Section Two PULMONARY SYSTEM

63. Asthma

64. Chronic Obstructive Pulmonary Disease

65. Upper Respiratory Tract Infections

66. Pneumonia

67. Pleural Disease

Section Three CARDIAC SYSTEM

68. Acute Coronary Syndromes

69. Dysrhythmias

70. Implantable Cardiac Devices

71. Heart Failure

72. Pericardial and Myocardial Disease

73. Infective Endocarditis and Valvular Heart Disease

Section Four VASCULAR SYSTEM

74. Hypertension

75. Aortic Dissection

76. Abdominal Aortic Aneurysm

77. Peripheral Arteriovascular Disease

78. Pulmonary Embolism and Deep Venous Thrombosis

Section Five GASTROINTESTINAL SYSTEM

79. Esophagus, Stomach, and Duodenum

80. Liver and Biliary Tract

81. Pancreas

82. Disorders of the Small Intestine

83. Acute Appendicitis

84. Gastroenteritis

85. Large Intestine

86. Anorectum

Section Six GENITOURINARY AND GYNECOLOGIC SYSTEMS

87. Renal Failure

88. Sexually Transmitted Diseases

89. Selected Urologic Disorders

90. Selected Gynecologic Disorders

Section Seven NEUROLOGY

91. Stroke

92. Seizures

93. Headache

94. Delirium and Dementia

95. Brain and Cranial Nerve Disorders

96. Spinal Cord Disorders

97. Peripheral Nerve Disorders

98. Neuromuscular Disorders

99. Central Nervous System Infections

Section Eight PSYCHIATRIC AND BEHAVIORAL DISORDERS

100. Thought Disorders

101. Mood Disorders

102. Anxiety Disorders

103. Somatoform Disorders

104. Factitious Disorders and Malingering

105. Suicide

Section Nine IMMUNOLOGIC AND INFLAMMATORY

106. Arthritis

107. Tendinopathy and Bursitis

108. Systemic Lupus Erythmatosus and the Vasculitides

109. Allergy, Hypersensitivity, and Anaphylaxis

110. Dermatologic Presentations

Section Ten HEMATOLOGY AND ONCOLOGY

111. Blood and Blood Components

112. Anemia and Polycythemia

113. White Blood Cell Disorders

114. Disorders of Hemostasis

115. Selected Oncologic Emergencies

Section Eleven METABOLISM AND ENDOCRINOLOGY

116. Acid-Base Disorders

117. Electrolyte Disorders

118. Diabetes Mellitus and Disorders of Glucose Homeostasis

119. Rhabdomyolysis

120. Thyroid and Adrenal Disorders

Section Twelve INFECTIOUS DISEASES

121. Bacteria

122. Viruses

123. Rabies

124. AIDS and HIV

125. Parasites

126. Tick-Borne Illnesses

127. Tuberculosis

128. Bone and Joint Infections

129. Soft-Tissue Infections

130. Sepsis Syndrome

PART IV Environment and Toxicology

Section One ENVIRONMENT

131. Frostbite and Nonfreezing Cold Injuries

132. Accidental Hypothermia

133. Heat Illness

134. Electrical and Lightning Injuries

135. Scuba Diving and Dysbarism

136. High-Altitude Medicine

137. Drowning

138. Radiation Injuries

Section Two TOXICOLOGY

139. Approach to the Poisoned Patient

140. Substance Abuse

141. Toxic Alcohols

142. Alcohol-Related Disease

143. Acetaminophen

144. Aspirin and Nonsteroidal Agents

145. Anticholinergics

146. Antidepressants

147. Cardiovascular Drugs

148. Caustics

149. Cocaine and Other Sympathomimetics

150. Hallucinogens

151. Heavy Metals

Ron Walls, MD, Chief Operating Officer, Mass General Brigham; Neskey Family Professor of Emergency Medicine, Harvard Medical School, Boston, Massachusetts, Robert Hockberger, MD, Chair Emeritus, Emergency Medicine, Harbor-UCLA Medical Center, Torrance, California; Emeritus Professor of Medicine, David Geffen School of Medicine, Westwood, California and Marianne Gausche-Hill, MD, FACEP, FAAP, Medical Director, Los Angeles County EMS Agency, Professor of Clinical Emergency Medicine and Pediatrics, David Geffen School of Medicine at UCLA, Clinical Faculty, Harbor-UCLA Medical Center, Departments of Emergency Medicine and Pediatrics