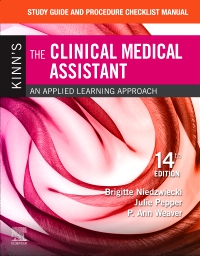 Study Guide and Procedure Checklist Manual for Kinn's The Clinical Medical Assistant
, 14th Edition
Paperback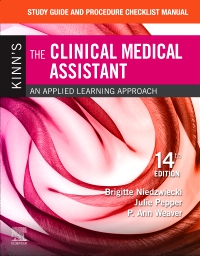 Not Yet Available
Coming Soon!
Expected availability date: 11-01-2019
Designed to support the trusted content in Kinn's The Clinical Medical Assistant, 14th Edition, this study guide and procedure checklist manual is the essential review and practice companion to reinforce key concepts, encourage critical thinking, and ensure that your students master and learn to apply clinical medical assisting content. This robust companion guide offers a wide range of exercises to reinforce your students' understanding of common clinical skills — including new certification preparation questions that offer additional practice for certification exams, a new chapter review of medical terminology and anatomy, and need-to-know workplace applications. Trusted for more than 60 years Kinn's Clinical Study Guide and Procedure Checklist Manual it also features competency checklists and clearly defined rubrics to accurately measure your students' performance from day one through graduation.
Hundreds of practice questions test your knowledge and comprehension with vocabulary review, multiple choice, fill-in-the-blank, and true/false questions.
Skills practice, workplace applications, and online activities promote your critical thinking skills.
Procedure checklists help you track your performance of key toward mastery of key skills and job-readiness.
Work products allows you to provide documentation or file in professional portfolios to use in job-searching.
Chapter-by-chapter correlation with the textbook allows you to easily test your comprehension as you go.
Perforated pages are easily removed for on-the-go study or turn-in assignments and evaluations.

NEW! Chapter reviews medical terminology, anatomy and physiology, and pathology to help you build a solid medical foundation.
NEW! Streamlined presentation of the material combines chapters in an easier-to-read format.
NEW! Certification Preparation questions help you focus on becoming certification-ready from Day 1.

PART 1 – Introduction to Medical Assisting 1. The Professional Medical Assistant and the Healthcare Team 2. Health Records 3. Introduction to Anatomy and Medical Terminology

PART 2 – Fundamentals of Clinical Medical Assisting 4. Infection Control 5. Vital Signs 6. Physical Examination 7. Patient Coaching 8. Nutrition and Health Promotion 9. Surgical Supplies and Instruments 10. Assisting with Surgical Procedures 11. Principles of Electrocardiography 12. Medical Emergencies

PART 3 – Assisting with Medications 13. Principles of Pharmacology 14. Pharmacology Math 15. Administering Medications

PART 4 – Assisting with Medical Specialties 16. Ophthalmology and Otolaryngology 17. Dermatology 18. Allergy and Infectious Disease 19. Gastroenterology 20. Orthopedics and Rheumatology 21. Neurology 22. Behavioral Health 23. Endocrinology 24. Cardiology 25. Pulmonology 26. Urology and Male Reproduction 27. Obstetrics and Gynecology 28. Pediatrics 29. Geriatrics

PART 5 – Assisting with Clinical Laboratory Procedures 30. Introduction to the Clinical Laboratory 31. Urinalysis 32. Blood Collection 33. Analysis of Blood 34. Microbiology and Immunology

PART 6 – Job Seeking 35. Skills and Strategies

Brigitte Niedzwiecki, RN, MSN, RMA, Medical Assistant Program Director & Instructor, Chippewa Valley Technical College, Eau Claire, Wisconsin, Julie Pepper, BS, CMA (AAMA), Medical Assistant Instructor, Chippewa Valley Technical College, Eau Claire, Wisconsin and P. Ann Weaver, MSEd, MT(ASCP), Medical Assistant Instructor, Chippewa Valley Technical College, Eau Claire, Wisconsin
Not Yet Available
Coming Soon!
Expected availability date: 11-01-2019