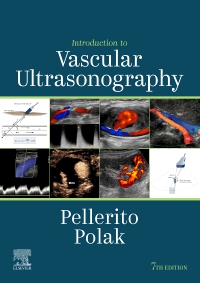 Publication Date:
11-13-2019
Introduction to Vascular Ultrasonography Elsevier eBook on VitalSource, 7th Edition
Elsevier eBook on VitalSource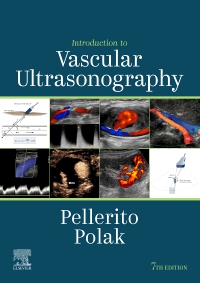 Publication Date:
11-13-2019
Or $0.00 with a valid access code
Focused content, an easy-to-read writing style, and abundant illustrations make Introduction to Vascular Ultrasonography the definitive reference on arterial and venous ultrasound. Trusted by radiologists, interventional radiologists, vascular and interventional fellows, residents, and sonographers through six outstanding editions, the revised 7th Edition covers all aspects of ultrasound vascular diagnosis, including peripheral veins and arteries, carotid and vertebral arteries, abdominal vessels, and transcranial Doppler. Step-by-step explanations, all highly illustrated, walk you through the full spectrum of ultrasound sonography practice, including all that's new in this quickly evolving field.
Section 1: Basics
1. The Hemodynamics of Vascular Disease
2. The Physics and Instrumentation of Ultrasound Imaging in Vascular Disease
3. Doppler Flow Imaging and Spectral Analysis
Section 2: Cerebral Vessels
4. Anatomy of the Cerebral Vasculature
5. Carotid Sonography: Protocols and Technical Considerations
6. Evaluating Carotid Plaque and Intima Media Thickness
7. Ultrasound Assessment of Carotid Stenosis
8. How to Assess Difficult and Uncommon Carotid Cases
9. Ultrasound Assessment of the Vertebral Arteries
10. Ultrasound Assessment of the Intracranial Arteries
Section 3: Extremity Arteries
11. Anatomy of the Upper and Lower Extremity Arteries
12. Physiologic Testing of Lower Extremity Arterial Disease
13. Assessment of Upper Extremity Arterial Disease
14. Ultrasound Evaluation Before and After Hemodialysis Access
15. Ultrasound Assessment of Lower Extremity Arteries
16. Ultrasound Assessment During and After Carotid Peripheral Intervention
17. Ultrasound in the Assessment and Management of Arterial Emergencies
Section 4: Extremity Veins
18. Extremity Venous Anatomy and Technique for US Examination
19. Ultrasound Diagnosis of Lower Extremity Venous Thrombosis
20. Risk Factors and the Role of Ultrasound in the Management of Extremity Venous Disease
21. Diagnostic Testing for Venous Insufficiency
22. Nonvascular Findings Encountered During Venous Sonography
Section 5: Abdomen and Pelvis
23. Anatomy and Normal Doppler Signatures of Abdominal Vessels
24. Ultrasound Assessment of the Abdominal Aorta
25. Ultrasound Assessment Following Endovascular Aortic Aneurysm Repair
26. Doppler Ultrasound of the Mesenteric Vasculature
27. Ultrasound Assessment of The Hepatic Vasculature
28. Duplex Ultrasound Assessment of Native Renal Vasculature
29. Duplex Ultrasound Evaluation of the Uterus and Ovaries
30. Duplex Ultrasound Evaluation of the Male Genitalia
31. Evaluation of Organ Transplants
Section 6: Trends in Vascular Imaging
32. Credentialing, Accreditation and Quality in the Vascular Laboratory
33. Ultrasound Screening for Vascular Disease
34. Correlative Imaging in Vascular Disease
35. Ultrasound Contrast Agents in Vascular Disease

John Pellerito, MD, FACR, FSRU, FAIUM, Associate Professor of Radiology, Hofstra North Shore-LIJ School of Medicine, Associate Chairman, Department of Radiology, Chief, Division of Ultrasound, CT, and MRI, Director, Peripheral Vascular Laboratory, North Shore University Hospital, Manhasset, NY and Joseph F. Polak, MD, MPH, Professor of Radiology, Tufts University School of Medicine, Vice-Chair of Business Development, Tufts Medical Center, Boston MA Chief of Radiology, Lemuel Shattuck Hospital, Jamaica Plain, MA