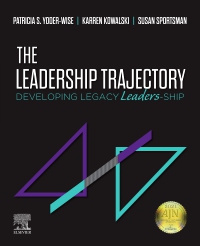 Publication Date:
09-23-2020
The Leadership Trajectory Elsevier eBook on VitalSource, 1st Edition
Elsevier eBook on VitalSource
Publication Date:
09-23-2020
Or $0.00 with a valid access code
Designed to help you excel at every stage of your leadership path, this unique and practical text is organized around a nursing and health care leadership trajectory of three core areas — The Strategies, The Personal, and The Environment. The Strategies covers necessary actions that you need to take to become more influential in any environment to move yourself and your people to greater contributions. The Personal relates to the concepts that you must develop and hone to increase your influence. The Environment reinforces how you can exercise the strategies and personal factors in this leadership model through assessing the situations in which you find yourself.
Reflection questions in each chapter emphasize the importance of the process being discussed as a strategy for growth and to facilitate active reading.
LL Alert! boxes cite examples of actions and statements to avoid.
LL Lineup summaries at the end of each chapter help you create an action plan related to the chapter topic.
Practical approach features straightforward, concise content that addresses only the most relevant information on the subject of each chapter.
The Strategies covers necessary actions that you need to take to become more influential in any environment to move yourself and your people to greater contributions.
The Personal relates to the concepts that you must develop and hone to increase your influence.
The Environment reinforces how you can exercise the strategies and personal factors in this model through assessing the situations in which you find yourself.

The Strategies
Strategies Overview
1. Leading to Legacies
2. Model
3. The Profession and Values
4. Life-Long Learning
5. Purpose
6. Self-Assessing
7. Reflecting
8. Framing
9. Influencing
10. Advocating
11. Coaching
12. Mentoring
13. Visioning
14. Wisdom
The Personal
Personal Overview
15. Accountability
16. Agility
17. Attitudes
18. Authenticity
19. Capacity
20. Courage
21. Creativity
22. Integrity
23. Intelligence
24. Mindfulness
25. Presence
26. Resilience
27. Risking
28. Spirituality
29. Timing
30. Truthfulness
31. Trust
32. Vulnerability
The Environment
Environment Overview
33. Alliances
34. Communication
35. Contribution
36. Culture
37. Engagements
38. Governance
39. Inclusion
40. Innovation
41. Politics
42. Processes
43. Relationships
44. Strategy
45. Structure
46. Exiting
Conclusion
References

Patricia S. Yoder-Wise, RN, EdD, NEA-BC, ANEF, FAAN, Texas Tech University Health Sciences Center, Lubbock, Texas, Karren E. Kowalski, PhD, RN, NEA-BC, FAAN, President, Kowalski and Associates Consulting, Castle Rock, CO and Susan Sportsman, RN, PhD, ANEF, FAAN