Nursing Concepts Online for LPN/LVN - Classic Version
,
Nursing Concepts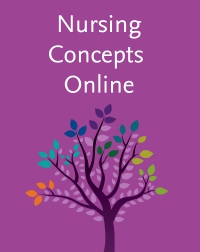 Or $0.00 with a valid access code
The ultimate active-learning environment is here! Nursing Concepts Online for LPN/LVN combines all of Elsevier's top conceptual learning tools into one easy-to-use course format. This online course comes with a wide assortment of evaluative capabilities to help you hone your critical thinking skills and apply your knowledge of nursing concepts and exemplars to clinical practice. Plus, a single access code gives you access to newly enhanced video skills, pre-loaded simulation scenarios, concept-based case studies, a functional EHR, adaptive mastery quizzes, priority exemplar links, and more!
Direct links to the Giddens' Concepts for Nursing Practice, 2nd Edition text allows you to skip directly to relevant information in the text.
Elsevier Adaptive Quizzing for Nursing Concepts uses adaptive quizzing to help you master concepts.
Clinical Skills: Essentials Collection demonstrates how to perform PN-level nursing skills in high-definition video with step-by-step instructions and NCLEX exam-style review questions.
Self-assessment questions allow you to test your understanding of key concepts and prepare for the NCLEX exam.
Integrated case studies from the Giddens' text provide critical thinking questions with answers.
Single sign-on access code provides quick access to all conceptual learning tools.
HESI Patient Reviews provides you with PN-level critical thinking exercises that offer problem-based learning and application of concepts in a practice environment.
SimChart for Nursing helps you learn patient charting skills and the active application of PN-level concepts in the clinical setting.
Exemplar boxes highlight priority exemplars that link directly to relevant content for quick review.

1. Development
2. Functional Ability
3. Family Dynamics
4. Culture
5. Spirituality
6. Adherence
7. Self-Management
8. Fluid and Electrolytes
9. Acid-Base Balance
10. Thermoregulation
11. Sleep
12. Cellular Regulation
13. Intracranial Regulation
14. Hormonal Regulation
15. Glucose Regulation
16. Nutrition
17. Elimination
18. Perfusion
19. Gas Exchange
20. Clotting
21. Reproduction
22. Sexuality
23. Immunity
24. Inflammation
25. Infection
26. Mobility
27. Tissue Integrity
28. Sensory Perception
29. Pain
30. Fatigue
31. Stress
32. Coping
33. Mood and Affect
34. Anxiety
35. Cognition
36. Psychosis
37. Addiction
38. Interpersonal Violence
39. Professional Identity
40. Clinical Judgment
41. Leadership (Limited resources for LPN)
42. Ethics
43. Patient Education
44. Health Promotion
45. Communication
46. Collaboration
47. Safety
48. Technology and Informatics
49. Evidence
50. Health Care Quality
51. Care Coordination (Limited resources for LPN)
52. Caregiving
53. Palliative Care
54. Health Disparities
55. Health Care Organizations
56. Health Care Economics
57. Health Policy
58. Health Care Law

Elsevier