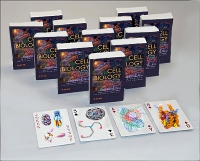 Publication Date:
06-14-2019
Cell Biology Playing Cards, 1st Edition
Non Book Item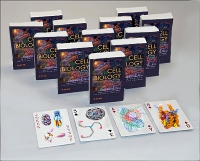 Publication Date:
06-14-2019
Free Shipping!
In Stock
This item has low stock levels and may be back-ordered. We'll let you know if it is back-ordered, and you will not be charged until the item ships.
Fun and educational, these unique playing cards are beautifully illustrated with detailed cells and cellular structures – perfect for science lovers and cell biologists of all ages! Card faces features favorite illustrations from the textbook Cell Biology by Thomas D. Pollard et al. – from the clathrin triskelion and its three-fold symmetry on the 3 to mitotic chromosome structure on the Queen!
Ace: Three cytoskeletal polymers
2: Mitotic spindle with chromosomes
3: Clathrin triskelion and cage
4: Transport of a large RNP through a nuclear pore
5: Endosomes and lysosome
6: Gap junction connexon
7: Proteasome
8: Nucleosome
9: Mother and daughter centrioles
10: Membrane traffic
Jack: Artist's diagram of budding yeast kinetochore
Queen: Hierarchy of levels of mitotic chromosome structure
King: Eukaryotic phylogenetic tree
Black Joker: Autophagy
Red Joker: Ribosome, V-type ATPase, CRISPR/Cas, bacterium

Thomas D. Pollard, MD, Sterling Professor, Department of Molecular, Cellular, and Developmental Biology, Yale University, New Haven, CT, William C. Earnshaw, PhD, FRS, Professor and Wellcome Trust Principal Research Fellow, Wellcome Trust Centre for Cell Biology, ICB, University of Edinburgh, Scotland, United Kingdom, Graham Johnson, MA, PhD, CMI, Director, Animated Cell, Allen Institute for Cell Biology, Seattle, Washington;, QB3 Faculty Fellow, University of California, San Francisco, San Francisco, California and Jennifer Lippincott-Schwartz, PhD, Group Leader, Howard Hughes Medical Institute, Janelia Research Campus, Ashburn, Virginia, United States