Lire des textes de recherche Elsevier eBook on VitalSource (Retail Access Card), 6th Edition
Elsevier eBook on VitalSource - Access Card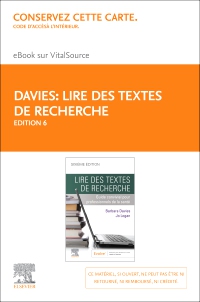 Free Shipping!
This item has low stock levels and may be back-ordered. We'll let you know if it is back-ordered, and you will not be charged until the item ships.
Reading Research is also available in English.
Idéal à la fois pour étudiants et pour professionnels de la santé, Lire des textes de recherche: Guide convivial pour professionnels de la santé, sixième édition est une introduction pratique de niveau débutant à la recherche en sciences santé. Le texte est rédigé à l'intention de personnes n'ayant peu ou pas d'expériences dans l'analyse de publications de recherche et fournit des lignes directrices pour comprendre les articles de recherche. Il couvre aussi les éléments importants des recherches publiées, telles les méthodes de recherche, la terminologie régulière, l'analyse des données et les résultats. Tous les chapitres ont été remis à jour avec de nouveaux écrits ayant une influence sur la pratique fondée sur des savoirs probants et une synthèse des plus récentes recherches. Pour les personnes déjà dans le domaine, le livre offre une brève discussion sur la façon dont les résultats peuvent servir et être mis en pratique.
Vue d'ensemble concise de la recherche reliée aux sciences santé maximise votre temps d'étude en incluant tous les types populaires de méthodologies de recherche.
UNIQUE! Boîtes conseils fournissent des suggestions pratiques faciles à suivre aux personnes débutantes en la matière.
UNIQUE! Boîtes alertes! avertissent des postulats communs lors de la lecture de texte de recherche.
Site web d'accompagnement offre les Feuilles de Travail et d'Accompagnement du Lecteur pour recherche qualitative, quantitative, méthode mixte et révisions systématiques.

NOUVEAU! Mise à jour de tous les chapitres incluant les termes clés et les explications des méthodes régulières de recherche.
NOUVEAU! Contenu sur l'utilisation du web, des médias sociaux et d'éviter les revues de prédateurs.
NOUVEAU! Augmentation de l'utilisation de la recherche pour améliorer les soins aux patients vous aide à comprendre l'importance de la recherche.
NOUVEAU! Vue d'ensemble du chapitre d'introduction fournit une meilleure compréhension de l'agencement du livre et de la façon d'utiliser son contenu.

1.Introduction 2.Étapes faciles pour lire des textes de recherche 3.Où trouver des résultats intéressants de recherche 4.Utiliser les résultats de recherche

Appendices A.Revues de publications arbitrées de recherche B.Recherche Qualitative: Feuille de travail et d'accompagnement du lecteur C.Recherche Quantitative: Feuille de travail et d'accompagnement du lecteur D.Recherche de Méthodes Mixtes: Feuille de travail et d'accompagnement du lecteur E.Révisions Systématiques: Feuille de travail et d'accompagnement du lecteur F.Utilisation de résultats de recherche: Feuille de travail et d'accompagnement du lecteur

Barbara Davies, RN, PhD FCAHS, School of Nursing, Faculty of Health Sciences,University of Ottawa Ottawa, ON and Jo Logan, BScN, PhD, School of Nursing, Faculty of Health Sciences,University of Ottawa,ON