Radiography Essentials for Limited Practice - Elsevier eBook on VitalSource (Retail Access Card), 6th Edition
Elsevier eBook on VitalSource - Access Card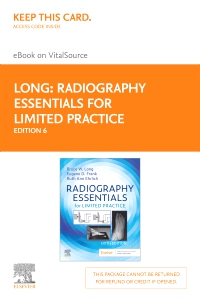 Free Shipping!
This item has low stock levels and may be back-ordered. We'll let you know if it is back-ordered, and you will not be charged until the item ships.
Master the skills needed to perform basic radiography procedures! Written exclusively for limited radiography students, Radiography Essentials for Limited Practice, 6th Edition provides a fundamental knowledge of imaging principles, positioning, and procedures. Content reflects the most current practice, and incorporates all the subjects mandated by the American Society of Radiologic Technologists (ASRT) curriculum so you will be thoroughly prepared for the ARRT Limited Scope Exam. From radiologic imaging experts Bruce Long, Eugene Frank, and Ruth Ann Ehrlich, this book provides the right exposure to x-ray science, radiographic anatomy, technical exposure factors, and radiation protection, along with updated step-by-step instructions showing how to perform each projection.
Concise coverage thoroughly prepares you for the ARRT Limited Scope Exam and clinical practice with the latest on x-ray science and techniques, radiation safety, radiographic anatomy, pathology, patient care, ancillary clinical skills, and positioning of the upper and lower extremities, spine, chest, and head.
Expanded digital imaging concepts reflect today's practice and meet the requirements of the ASRT Limited Scope Content Specifications.
Current information on state licensure and limited radiography terminology ensures that you understand exam requirements and the role of the limited practitioner.
Step-by-step instructions provide guidance on how to position patients for radiographic procedures performed by limited operators.
Math and radiologic physics concepts are simplified and presented at an easy-to-understand level.
Bone Densitometry chapter provides the information you need to know to prepare for the ARRT exam and clinical practice.
Learning objectives and key terms highlight important information in each chapter and can be used as review tools.
Special boxes highlight information to reinforce important points in the text.

NEW! Updated content reflects today's radiography for limited practice.
NEW! Updated drawings, photos, and medical radiographs enhance your understanding of key concepts and illustrate current technology.

PART I: Introduction to Limited Radiography
1. Role of the Limited X-ray Machine Operator
2. Introduction to Radiographic Equipment
3. Basic Mathematics for Limited Operators
PART II: X-ray Science
4. Basic Physics for Radiography
5. X-ray Production
6. X-ray Circuit and Tube Heat Management
7. Principles of Exposure and Image Quality
8. Digital Imaging
9. Scatter Radiation and Its Control
10. Formulating X-ray Techniques
11. Radiobiology and Radiation Safety
PART III: Radiographic Anatomy, Positioning, and Pathology
12. Introduction to Anatomy, Positioning, and Pathology
13. Upper Limb and Shoulder Girdle
14. Lower Limb and Pelvis
15. Spine
16. Bony Thorax, Chest, and Abdomen
17. Skull, Facial Bones, and Paranasal Sinuses
18. Radiography of Pediatric and Geriatric Patients
19. Image Evaluation
PART IV: Professionalism and Patient Care
20. Ethics, Legal Considerations, and Professionalism
21. Safety and Infection Control
22. Assessing Patients and Managing Acute Situations
PART V: Ancillary Clinical Skills
23. Medications and Their Administration
24. Medical Laboratory Skills
25. Additional Procedures for Assessment and Diagnosis
26. Bone Densitometry
Appendix A: State Licensure Information
Appendix B: The American Registry of Radiologic Technologists Rules of Ethics
Appendix C: Solutions to Practice Problems in Chapter 3
Appendix D: Sample Manual X-Ray Technique Chart
Appendix E: Optimum Kilovoltage (kVp) Ranges
Appendix F: Milliampere-seconds (mAs) Table
Appendix G: Nomogram for Determining Patient Skin Dose from X-ray Exposure
Appendix H: Usual Projections for Routine Examinations
Appendix I: Evaluation of Sample Images from Chapter 19
Appendix J: Charting Terms and Abbreviations
Appendix K: Task Inventory for Limited Scope of Practice in Radiography

Margaret M. Hunkele, AS, RT(R), Program Coordinator, PTR, Bryman School, Phoenix, AZ, Bruce W. Long, MS, RT(R)(CV), FASRT, FAEIRS, Director and Associate Professor (Retired), Radiologic Imaging and Sciences Programs, Indiana University School of Medicine, Indianapolis, Indiana., Eugene D. Frank, MA, RT(R), FASRT, FAEIRS, Associate Professor Emeritus, Mayo Clinic College of Medicine, Rochester, Minnesota. and Ruth Ann Ehrlich, Radiology Faculty (Retired), University of Western States, Portland, Oregon.