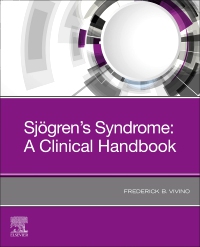 Free Shipping!
Not Yet Available
Coming Soon!
Expected availability date: 09-02-2019
Offering a concise overview of Sjogren's Syndrome, including best practices for specific clinical settings, this practical resource by Dr. Frederick Vivino covers the key information you need to know. 
Concise and clinically focused book with an emphasis on diagnosis and treatment
Includes Sjogren's Syndrome Foundation Practice Guidelines and the most recent ACR-EULAR classification criteria
Consolidates today's available information and experience in this important area into one convenient resource.
1. Sjögren's Syndrome: Past, Present and Future
2. Diagnosis and Evaluation of Sjögren's Syndrome
3. Oral Manifestations and Management in Sjögren's Syndrome
4. Diagnosis and Management of Sjögren's Syndrome Related Dry Eye
5. Approach to Children with Sjögren's
6. Extraglandular Abnormalities in Sjögren's Syndrome
7. Vasculitis in Sjögren's Syndrome
8. Lymphoproliferative Disease in Sjögren's Syndrome
9. Diagnosis and Management of Sjogren's Peripheral and Autonomic
10. Diagnosis and Management of Central Nervous System in Sjögren's Syndrome
11. Treatment of Sjögren's Syndrome Internal Organ Manifestations and Constitutional Symptoms
12. Integrative Rheumatology: Complementary and Alternative Medicine for the Management of Sjögren's Syndrome
13. Perioperative Management of Patients with Sjögren's Syndrome
14. Utility and Safety of Vaccines in Sjogren's
15. The Cost of Sjögren's and the Value of Patient Resources and Support in Management

Frederick B. Vivino