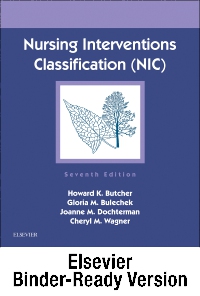 Publication Date:
02-06-2018
Nursing Interventions Classification (NIC) - Binder Ready, 7th Edition
Binder Ready
Publication Date:
02-06-2018
Most review copies are eBooks – how fast!
This item has low stock levels and may be back-ordered. We'll let you know if it is back-ordered, and you will not be charged until the item ships.
Binder-Ready Edition: This loose-leaf copy of the full text is a convenient, accessible, and customizable alternative to the bound book. With this binder-ready edition, you can personalize the text to match your unique needs!
Selecting nursing interventions is easier with the book that standardizes nursing language! Nursing Interventions Classification (NIC), 7th Edition provides a research-based clinical tool to help students learn to choose appropriate interventions. It standardizes and defines the knowledge base for nursing practice while effectively communicating the nature of nursing. More than 550 standardized nursing interventions are described — including 16 new interventions. The only comprehensive taxonomy of nursing-sensitive interventions on the market, this book is an ideal clinical tool for nursing students and practicing nurses, nursing administrators seeking to improve patient care, and educators seeking to enhance nursing curricula.
More than 550 research-based nursing intervention labels are included, along with specific activities used to carry out interventions.
Descriptions of each intervention include a definition, a list of activities, a publication facts line, and references.
Specialty core interventions are provided for 53 specialties.

NEW! 16 NEW interventions are added to this edition, including health coaching, phytotherapy, management of acute pain, and management of chronic pain.
UPDATED! 95 interventions have been revised.
NEW! Five label name changes are included.

FRONT MATTER
Preface
Strengths of NIC
Acknowledgements
Recognition List, 7th Edition
Organizations that have Contributed to the Development of NIC
Definition of Terms
How to Find an Intervention
PART ONE
An Overview of the Nursing Interventions Classification
PART TWO
Taxonomy of Nursing Interventions
PART THREE
The Classification
PART FOUR
Core Interventions for Nursing Specialty Areas
PART FIVE
Estimated Time and Education Level Necessary to Perform NIC Interventions
PART SIX
Appendixes
Appendix A: Interventions: New, Revised, and Retired Since 6th Edition
Appendix B: Guidelines for Submission of a New or Revised Intervention
Appendix C: Timeline and Highlights for NIC
Appendix D: Abbreviations
Appendix E: Previous Editions and Translations

Howard K. Butcher, RN, PhD, Professor & Director of the PhD Program,Christine E. Lynn College of Nursing ,Florida Atlantic University Boca Raton, Florida, Gloria M. Bulechek, RN, PhD, FAAN, Professor Emerita,The University of Iowa College of Nursing Iowa City, Iowa, Joanne M. Dochterman, PhD, Professor Emerita The University of Iowa College of Nursing Iowa City, Iowa and Cheryl M. Wagner, RN, PhD, MBA/MSN, Faculty and Editor, Nursing Interventions Classification,College of Nursing,Center For Nursing Classification,The University of Iowa,Iowa City, Iowa