Physical Examination and Health Assessment - Binder Ready, 8th Edition
Binder Ready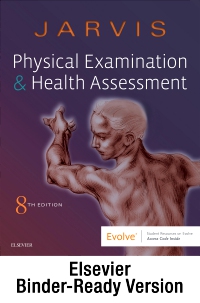 Free Shipping!
This item has low stock levels and may be back-ordered. We'll let you know if it is back-ordered, and you will not be charged until the item ships.
Binder-Ready Edition: This loose-leaf copy of the full text is a convenient, accessible, and customizable alternative to the bound book. With this binder-ready edition, you can personalize the text to match your unique study needs!
With an easy-to-follow approach and unmatched learning support, Jarvis' Physical Examination and Health Assessment, 8th Edition is the most authoritative, complete, and easily-implemented solution for health assessment courses in nursing. This tightly integrated learning package continues to center on Carolyn Jarvis's trademark clear, logical, and holistic approach to physical examination and health assessment across the patient lifespan. It's packed with vivid illustrations, step-by-step guidance and evidence-based content to provide a complete approach of health assessment skills and physical examination. With a fresh focus on today's need-to-know information, the 8th edition integrates QSEN and interprofessional collaboration, enhanced inclusion of LGBTQ issues, a new standalone Vital Signs chapter, and enhanced EHR and documentation content.
The most trusted name in health assessment for nurses, now in its 8th edition!
A clear, conversational, step-by-step, evidence-based approach to physical examination and health assessment of patients throughout the lifespan.
A consistent format from chapter to chapter features sections on Structure and Function, Subjective Data, Objective Data, Documentation and Critical Thinking, and Abnormal Findings to help you learn to assess systematically.
UPDATED! An unsurpassed collection of more than 1,100 full-color illustrations has been updated to vividly showcase anatomy and physiology, examination techniques, and abnormal findings.
Enhanced content on the electronic health record, charting, and narrative recording exemplify how to document assessment findings using state-of-the-art systems with time-tested thoroughness.
Engaging learning resources include assessment video clips; NCLEX® Exam review questions; case studies with critical thinking activities; audio clips of heart, lung, and abdominal sounds; assessment checklists, and much more.
Promoting a Healthy Lifestyle boxes present opportunities for patient teaching and health promotion while performing the health assessment.
Developmental Competence sections highlight content specific to infants, children, adolescents, pregnant women, and older adults.
Culture and Genetics sections include information on biocultural and transcultural variations in an increasingly diverse patient population.

NEW! Standalone Vital Signs chapter and refocused nutrition content includes an expanded emphasis on the national epidemic of obesity.
NEW! Enhanced integration of QSEN and interprofessional collaboration emphasize how to ensure patient safety during the physical exam and how to collaborate with other health professionals to promote optimal health.
NEW! Enhanced inclusion of LGBTQ issues and revamped and refocused Cultural Assessment chapter equip you with the skills to practice with greater sensitivity and inclusivity.
NEW! Health Promotion and Patient Teaching sections underscore the unique role of nurses (especially advanced practice nurses) in health promotion.

1. Evidence-Based Assessment
2. Cultural Assessment
3. The Interview
4. The Complete Health History
5. Mental Status Assessment
6. Substance Use Assessment
7. Domestic and Family Violence Assessment
8. Assessment Techniques and Safety in the Clinical Setting
9. General Survey and Measurement
10. Vital Signs
11. Pain Assessment
12. Nutrition Assessment
13. Skin, Hair, and Nails
14. Head, Face, Neck, and Regional Lymphatics
15. Eyes
16. Ears
17. Nose, Mouth, and Throat
18. Breasts, Axillae, and Regional Lymphatics
19. Thorax and Lungs
20. Heart and Neck Vessels
21. Peripheral Vascular System and Lymphatic System
22. Abdomen
23. Musculoskeletal System
24. Neurologic System
25. Male Genitourinary System
26. Anus, Rectum, and Prostate
27. Female Genitourinary System
28. The Complete Health Assessment: Adult
29. The Complete Physical Assessment: Infant, Young Child, and Adolescent
30. Bedside Assessment and Electronic Documentation
31. The Pregnant Woman
32. Functional Assessment of the Older Adult
Index

Carolyn Jarvis, PhD, APN, CNP, Professor, School of Nursing, Illinois Wesleyan University; Nurse Practitioner, Community Health Care Clinic, Bloomington, Illinois