Diagnostic Ultrasound for Sonographers Elsevier eBook on VitalSource
,
Elsevier eBook on VitalSource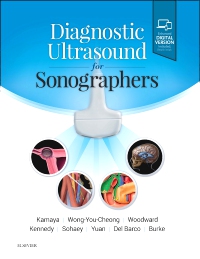 Or $0.00 with a valid access code
Authored by ultrasound specialists and reviewed by expert sonographers, this unique title is an image-rich, clinically relevant resource for both sonographers and beginning sonologists. Diagnostic Ultrasound for Sonographers meets the need for higher level diagnostic knowledge to not only identify an abnormality but understand its diagnostic implications, and anticipate what additional images would be needed to confirm a diagnosis. It includes tips on optimizing scans to streamline and accelerate the diagnostic process.
Abdomen

Liver

Anatomy and Approach

Liver

Diffuse Parenchymal Disease

Acute Hepatitis

Hepatic Cirrhosis

Hepatic Steatosis

Sinusoidal Obstruction

Cyst and Cyst-Like Lesions

Hepatic Cyst

Biliary Hamartoma

Biliary Cystadenoma/Carcinoma

Biloma

Pyogenic Hepatic Abscess

Amebic Hepatic Abscess

Hepatic Hydatid Cyst

Hepatic Microabscesses

Peribiliary Cyst

Focal Solid Masses

Hepatic Cavernous Hemangioma

Focal Nodular Hyperplasia

Hepatic Adenoma

Hepatocellular Carcinoma

Hepatic Metastases

Hepatic Lymphoma

Vascular Conditions

Transjugular Intrahepatic Portosystemic Shunt (TIPS)

Portal Hypertension

Portal Vein Occlusion

Budd-Chiari Syndrome

Portal Vein Gas

Liver Transplants

Liver Transplant Hepatic Artery Stenosis/Thrombosis

Liver Transplant Portal Vein Stenosis/Thrombosis

Liver Transplant Hepatic Venous Stenosis/Thrombosis

Liver Transplant Biliary Stricture

Biliary System

Anatomy and Approach

Biliary System

Gallstones and Mimics

Cholelithiasis

Echogenic Bile

Gallbladder Polyp

Gallbladder Wall Pathology

Acute Calculous Cholecystitis

Acute Acalculous Cholecystitis

Chronic Cholecystitis

Xanthogranulomatous Cholecystitis

Porcelain Gallbladder

Gallbladder Adenomyomatosis

Gallbladder Carcinoma

Ductal Pathology

Biliary Ductal Dilatation

Choledochal Cyst

Choledocholithiasis

Biliary Ductal Gas

Cholangiocarcinoma

Acute Cholangitis

Recurrent Pyogenic Cholangitis

HIV-/AIDS-Related Cholangiopathy

Pancreas

Anatomy and Approach

Pancreas

Pancreatitis

Acute Pancreatitis

Pancreatic Pseudocyst

Chronic Pancreatitis

Simple Cysts and Cystic Neoplasms

Mucinous Cystic Pancreatic Tumor

Serous Cystadenoma of Pancreas

Intraductal Papillary Mucinous Neoplasm (IPMN)

Solid-Appearing Pancreatic Neoplasms

Pancreatic Ductal Carcinoma

Pancreatic Neuroendocrine Tumor

Solid Pseudopapillary Neoplasm

Spleen

Anatomy and Approach

Spleen

Splenic Lesions

Splenomegaly

Splenic Cyst

Splenic Tumors

Splenic Infarct

Urinary Tract

Anatomy and Approach

Kidneys

Ureters and Bladder

Normal Variants and Pseudolesions

Column of Bertin, Kidney

Renal Junctional Line

Renal Ectopia

Horseshoe Kidney

Ureteral Duplication

Ureteral Ectopia

Ureteropelvic Junction Obstruction

Calculi and Calcinosis

Urolithiasis

Nephrocalcinosis

Hydronephrosis

Cysts and Cystic Disorders

Simple Renal Cyst

Complex Renal Cyst

Cystic Disease of Dialysis

Multilocular Cystic Nephroma

Urinary Tract Infection

Acute Pyelonephritis

Renal Abscess

Emphysematous Pyelonephritis

Pyonephrosis

Xanthogranulomatous Pyelonephritis

Tuberculosis, Urinary Tract

Solid Renal Neoplasms

Renal Cell Carcinoma

Renal Metastases

Renal Angiomyolipoma

Upper Tract Urothelial Carcinoma

Renal Lymphoma

Vascular Conditions

Renal Artery Stenosis

Renal Vein Thrombosis

Renal Infarct

Perinephric Hematoma

Bladder

Bladder Carcinoma

Ureterocele

Bladder Diverticulum

Bladder Calculi

Kidney Transplant

Renal Transplant Complications

Perigraft Fluid Collections

Renal Transplant Hydronephrosis

Transplant Renal Artery Stenosis

Transplant Renal Artery Thrombosis

Transplant Renal Vein Thrombosis

Renal Transplant Arteriovenous (AV) Fistula

Renal Transplant Pseudoaneurysm

Renal Transplant Rejection

Delayed Renal Graft Function

Adrenal Gland

Anatomy and Approach

Adrenal Glands

Adrenal Lesions

Adrenal Hemorrhage

Myelolipoma

Adrenal Adenoma

Adrenal Cyst

Pheochromocytoma

Adrenal Carcinoma

Abdominal Wall/Peritoneal Cavity

Anatomy and Approach

Abdominal Lymph Nodes

Peritoneal Cavity

Abdominal Wall

Abdominal Wall

Abdominal Wall Hernia

Groin Hernia

Peritoneal Cavity

Ascites

Peritoneal Carcinomatosis

Bowel

Anatomy and Approach

Bowel

Bowel Abnormalities

Appendicitis

Appendiceal Mucocele

Intussusception

Epiploic Appendagitis

Diverticulitis

Crohn Disease

Pelvis

Male Pelvis

Anatomy and Approach

Prostate and Seminal Vesicles

Testes and Scrotum

Penis and Urethra

Scrotal Lesions

Testicular Germ Cell Tumors

Gonadal Stromal Tumors, Testis

Testicular Lymphoma/Leukemia

Epidermoid Cyst

Tubular Ectasia of Rete Testis

Testicular Microlithiasis

Testicular Torsion/Infarction

Undescended Testis

Epididymitis/Orchitis

Scrotal Trauma

Hydrocele

Spermatocele/Epididymal Cyst

Adenomatoid Tumor

Varicocele

Prostatic Hyperplasia

Prostatic Carcinoma

Female Pelvis

Anatomy and Approach

Uterus

Cervix

Vagina

Ovaries

Cervical and Myometrial Pathology

Nabothian Cyst

Cervical Carcinoma

Adenomyosis

Leiomyoma

Uterine Anomalies

Endometrial Disorders

Hematometrocolpos

Endometrial Polyp

Endometrial Carcinoma

Endometritis

Intrauterine Device

Ovarian Cysts and Cystic Neoplasms

Functional Ovarian Cyst

Hemorrhagic Cyst

Ovarian Hyperstimulation Syndrome

Serous Ovarian Cystadenoma/Carcinoma

Mucinous Ovarian Cystadenoma/Carcinoma

Ovarian Teratoma

Polycystic Ovarian Syndrome

Endometrioma

Nonovarian Cystic Masses

Tuboovarian Abscess

Hydrosalpinx

Parovarian Cyst

Peritoneal Inclusion Cyst

Vaginal and Vulvar Cysts

Bartholin Cyst

Gartner Duct Cyst

Miscellaneous Ovarian Masses

Sex Cord-Stromal Tumor

Aya Kamaya, MD, FSRU, FSAR, Associate Professor of Radiology, Director, Stanford Body Imaging Fellowship, Director of Ultrasound, Stanford University School of Medicine, Stanford, California, Jade Wong-You-Cheong, MBChB, MRCP, FRCR, Professor, Department of Diagnostic Radiology and Nuclear Medicine, University of Maryland School of Medicine, Director of Ultrasound, University of Maryland Medical Center, Baltimore, Maryland and Paula J Woodward, MD, Professor of Radiology, David G. Bragg, MD and Marcia R. Bragg Presidential Endowed Chair in Oncologic Imaging, Adjunct Professor of Obstetrics and Gynecology, University of Utah School of Medicine, Salt Lake City, Utah