Elsevier Adaptive Quizzing for the NCLEX-RN Exam (36-Month) - Classic Version
, 3rd Edition
Elsevier Adaptive Quizzing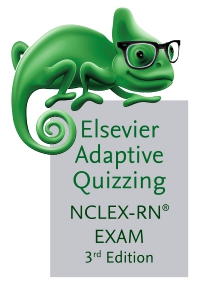 Or $0.00 with a valid access code
Not Yet Available
Coming Soon!
Expected availability date: 11-15-2019
With more than 14,000 questions, Elsevier Adaptive Quizzing for the NCLEX-RN® Exam (36-Month), 3rd Edition serves up personalized content to help you prepare for high-stakes, end-of-program exams, including the HESI Exit Exam and the NCLEX-RN exam. It's ideal for use throughout your program to give you valuable practice answering NCLEX exam-style questions. Plus, Elsevier Adaptive Quizzing's formative assessment technology customizes material to your personal level of competence and proficiency, allowing you to progress at your own pace toward content mastery — all in a fun and interactive way.
Duration for access to this product, which may be at the discretion of your institution, is up to 36 months. Elsevier reserves the right to restrict or remove access due to changes in product portfolio or other market conditions.
Relevant content tags specific to each discipline, as well as licensure and certification competencies, allow you to create quizzes based on relevant and core content areas.
High-quality questions and rationales give you valuable practice applying your knowledge and facilitate critical thinking in a developmental way.
Student self-quizzing enables you to practice with questions any time, any place, to get ahead, prepare for an upcoming exam, or improve upon your personal areas of weakness.
Performance dashboards allow you to identify areas of weakness and strength and refocus your study efforts based on these insights.
Benchmarking and goals give you the ability to set goals and self-quiz until each hurdle is achieved.

Elsevier