Larsen's Human Embryology Elsevier E-Book on VitalSource, 6th Edition
Elsevier eBook on VitalSource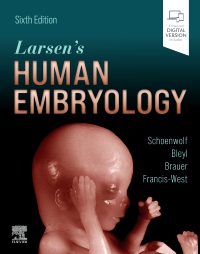 Or $0.00 with a valid access code
Not Yet Available
Coming Soon!
Expected availability date: 02-28-2021
Offering a well-organized, straightforward approach to a highly complex subject, Larsen's Human Embryology, 6th Edition, provides easy-to-read, comprehensive coverage of human embryonic development for today's students. It integrates anatomy and histology with cellular and molecular mechanisms, focusing on both normal development and congenital anomalies. Highly illustrated with superb drawings and photographs, it features a strong clinical focus based on the most up-to-date scientific discoveries and understanding.

Duration for access to this product, which may be at the discretion of your institution, is up to 84 months. Elsevier reserves the right to restrict or remove access due to changes in product portfolio or other market conditions.
Introduction

Chapter 1 Gametogenesis, Fertilization, and First Week

Chapter 2 Second Week: Becoming Bilaminar and Fully Implanting

Chapter 3 Third Week: Becoming Trilaminar and Establishing Body Axes

Chapter 4 Fourth Week: Forming the Embryo

Chapter 5 Principles and Mechanisms of Morphogenesis and Dysmorphogenesis

Chapter 6 Fetal Development and the Fetus as a Patient

Chapter 7 Development of the Skin and Its Derivatives

Chapter 8 Development of the Musculoskeletal System

Chapter 9 Development of the Central Nervous System

Chapter 10 Development of the Peripheral Nervous System

Chapter 11 Development of the Respiratory System and Body Cavities

Chapter 12 Development of the Heart

Chapter 13 Development of the Vasculature

Chapter 14 Development of the Gastrointestinal Tract

Chapter 15 Development of the Urinary System

Chapter 16 Development of the Reproductive System

Chapter 17 Development of the Pharyngeal Apparatus and Face

Chapter 18 Development of the Ears

Chapter 19 Development of the Eyes

Chapter 20 Development of the Limbs

Figure Credits

Gary C. Schoenwolf, PhD, University of Utah School of Medicine, Salt Lake City, Utah, Steven B. Bleyl, MD, PhD, University of Utah School of Medicine, Salt Lake City, Utah, Philip R. Brauer, PhD, Creighton University School of Medicine, Omaha, Nebraska and Philippa H. Francis-West, PhD, King's College London Dental Institute, London, United Kingdom