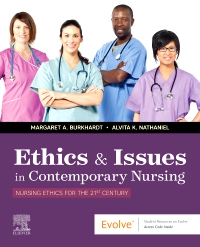 Publication Date:
12-09-2019
Ethics & Issues In Contemporary Nursing - Elsevier eBook on Vitalsource, 1st Edition
Elsevier eBook on VitalSource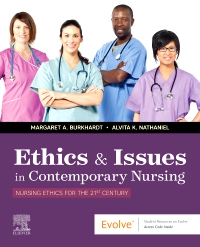 Publication Date:
12-09-2019
Or $0.00 with a valid access code
Learn how to think beyond the theoretical in any environment. Ethics & Issues in Contemporary Nursing, 1st Edition examines the latest trends, principles, theories, and models in patient care to help you learn how to make ethically sound decisions in complex and often controversial situations. Written from a global perspective, examples throughout the text reflect current national and international issues inviting you to explore cases considering socio-cultural influences, personal values, and professional ethics. Historical examples demonstrate how to think critically while upholding moral and professional standards, as well as the law. Key topics throughout explore advocacy and rights, diversity, nurse burnout, mass casualty events, social media, violence in the workplace, medication error prevention, opioid and other substance use, HIPAA, and healthcare reform. In addition, this new title contains supplemental case studies and review questions to further challenge and prepare you to make morally sound decisions in any healthcare setting.
NEW! Case Presentations from the United States and around the World address ethical dilemmas across the practice of nursing.
NEW! Think About It boxes present provocative questions within every case presentation.
NEW! Thoroughly up-to-date and well referenced content ensures material presented is accurate.
NEW! Straightforward and conversational writing style makes content interesting and understandable.
NEW! Review questions on Evolve allow students to practice what they have learned.
NEW! Case studies on Evolve help students apply the theoretical concepts they have learned.
NEW! Ask Yourself questions integrated into each chapter help students understand the relevance of the material.
NEW! Discussion questions and Activities within every chapter encourage students to think beyond the theoretical.
NEW! Summary and Highlights within every chapter make it easier for students to thoroughly understand key elements.

Part I: Guides for Principled Behavior 1. Social, Philosophical, and Other Historical Forces Influencing the Development of Nursing 2. Ethical Theory 3. Ethical Principles

Part II: Developing Principled Behavior 4. Values Clarification 5. Values Development 6. Ethics and Professional Nursing 7. Ethical Decision Making

Part III: Principled Behavior in the Professional Domain 8. Legal Issues 9. Professional Relationship Issues 10. Practice Issues Related to Technology 11. Practice Issues Related to Patient Self-Determination 12. Scholarship Issues

Part IV: Global Issues that Interface with Nursing Practice 13. Global Consciousness in the Twenty-First Century 14. Health Policy Issues 15. Economic Issues 16. Social Issues 17. Gender Issues 18. Transcultural and Spiritual Issues

Part V: The Power to Make a Difference 19. Empowerment for Nurses 20. Facilitating Patient Empowerment

Appendix A: Online Resources

Margaret A Burkhardt, PhD, FNP, AHN-BC, Associate Professor Emerita,West Virginia University School of Nursing,Charleston, West Virginia and Alvita K Nathaniel, PhD, FNP-BC, FAANP, Professor Emerita,West University School of Nursing,Charleston, West Virginia