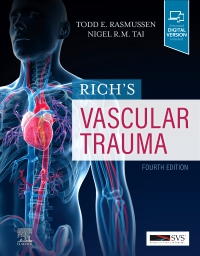 Publication Date:
11-04-2021
Rich's Vascular Trauma, 4th Edition
Hardcover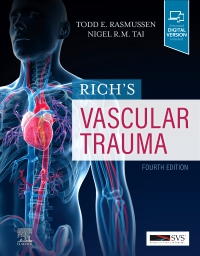 Publication Date:
11-04-2021
For more than 40 years, Rich's Vascular Trauma has been surgeons' #1 reference for the diagnosis and treatment of vascular injury in both civilian and military settings across the globe. Published in association with the Society for Vascular Surgery (SVS),the fully updated 4th Edition reflects recent changes in vascular injury patterns, wounds, and trauma care, drawing from current research and a wide variety of peer-reviewed publications to keep you up to date with the latest evidence-based management strategies and techniques. Written and edited by vascular surgeons who are also trauma specialists—civilian and military experts who have proficiency in both open-surgical and endovascular techniques—this must-have reference offers a global perspective on every aspect of the broad spectrum of vascular trauma.
1 The Vascular Injury Legacy
2 Epidemiology of Vascular Trauma
3 Systems of Care in the Management of Vascular Injury
4 Training Paradigms for Vascular Trauma
5 Prehospital Management of Vascular Injury
6 Damage Control and Immediate Resuscitation for Vascular Trauma
7 Diagnosis of Vascular Injury
8 Imaging for the Evaluation and Treatment of Vascular Trauma
9 Endovascular Suites and the Emergency Vascular Service
10 Stentgrafts, Coils and Plugs
11 Resuscitative Endovascular Balloon Occlusion of the Aorta (REBOA)
12 Endovascular Variable Aortic Control (EVAC)
13 Selective Aortic Arch Perfusion (SAAP)
14 Extracorporeal Systems for Injury and Shock
15 Gathering the Evidence: Clinical Study of New Technologies
16 Cardiac, Great Vessel, and Pulmonary Injuries
17 Blunt Thoracic Aortic Injury
18 Abdominal Aortic Trauma, Iliac and Visceral Vessel Injuries
19 Inferior Vena Cava, Portal, and Mesenteric Venous Systems
20 Neck and Thoracic Outlet
21 Upper Extremity and Junctional Zone Injuries
22 Lower Extremity Vascular Trauma
23 Surgical Damage Control and Temporary Vascular Shunts
24 Considerations for Conduit Repair of Vascular Injury
25 Management of Pediatric Vascular Injury
26 Soft-Tissue and Skeletal Wound Management in the Setting of Vascular Injury
27 Vascular Surgery in the Austere Environment
28 Australia and New Zealand
29 Sri Lanka
30 Croatia
30 Finland
31 Qatar
31 Sweden
32 Russia
33 Serbia
34 Israel
35 South Africa
36 Colombia
37 Brazil
Index and front matter
Clinical Pearls

Todd E. Rasmussen, MD, FACS, Colonel (ret.) USAF MC, Professor and Vice Chair of Education, Senior Associate Consultant in Vascular Surgery, Mayo Clinic, Rochester, Minnesota and Nigel R M Tai, MS FRCS(Gen) L/RAMC, Clinical Lead, Vascular Surgery and Consultant Vascular and Trauma Surgeon Royal London Hospital, Barts Health NHS Trust, London UK. Head jHubMed and Assistant Head (Implementation), Research & Clinical Innovation, Defence Medical Services, UK Strategic Command.