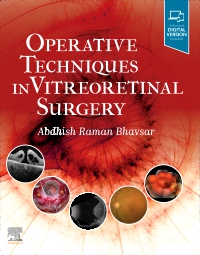 Publication Date:
07-21-2022
Operative Techniques in Vitreoretinal Surgery, 1st Edition
Hardcover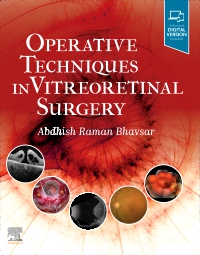 Publication Date:
07-21-2022
Master new procedures and improve outcomes with Operative Techniques in Vitreoretinal Surgery. This easy-to-read, "how-to" surgical atlas offers expert, step-by-step guidance on how to successfully perform basic retina and vitreous surgery as well as more involved complex and advanced procedures. Edited by Abdhish R. Bhavsar, MD, this unique resource focuses on the essentials of operative technique, helping both the novice and advanced retina surgeon make the most of the latest, most effective procedures in this fast-moving field.
SECTION 1: Surgical Techniques
1 Scleral Buckle Surgery
2 Vitrectomy Surgery
3 23-Gauge Vitrectomy Surgery
4 25-Gauge Vitrectomy Surgery
5 27-Gauge Vitrectomy
6 Epiretinal Membrane Surgery
7 Intravitreous Injections
8 Pneumatic Retinopexy
9 Air-Fluid Exchange
10 Drainage of Choroidal Hemorrhage, Detachment,or Effusions
11 Surgical Vitreous Implants
12 Vitreous Biopsy for Endophthalmitis, Uveitis, or Cytology
13 Artificial Retina/Retinal Prosthesis Surgery
SECTION 2: Disease-Based Surgery
14 Macular Hole Surgery
15 Surgery for Recurrent, Persistent, or Large Macular Holes
16 Proliferative Diabetic Retinopathy and Vitreous Hemorrhage
17 Surgical Management of Open-Globe Injuries
18 Surgery for Proliferative Vitreoretinopathy
19 Surgery for Submacular Hemorrhage
20 Laser Surgery for Retinopathy of Prematurity
21 Scleral Buckle Surgery for Retinal Detachment Associated With Neonatal Retinopathy of Prematurity
22 Vitrectomy Surgery for Retinopathy of Prematurity
23 Surgical Biopsy Techniques for Intraocular Tumors
24 Management of Dislocated Intraocular Lenses or Aphakia by Scleral or Iris Fixation Techniques
25 Surgery for Intraocular Tumors
SECTION 3: Technology: Present and Future
26 Vitrectomy Technology and Techniques
27 Vitrectomy Instrumentation: Scissors, Forceps, Picks
28 Vitrectomy Visualization Systems and Techniques
29 Robotic Surgery
SECTION 4: Investigational Surgery and Techniques
30 Subretinal Gene Therapy Delivery
31 AU-011 for Choroidal Melanoma
32 The Intersection of Retina and Glaucoma
Index

Abdhish R. Bhavsar, MD, Senior Retina Surgeon and Partner, Retina Consultants Of Minnesota; President and Managing Partner, Legacy Retina Center of Minnesota; Past Chair, Phillips Eye Institute, Minneapolis; Adjunct Assistant Professor, University of Minnesota. Minneapolis, MN.