Clinical Microbiology Elsevier eBook on VitalSource, 1st Edition
Elsevier eBook on VitalSource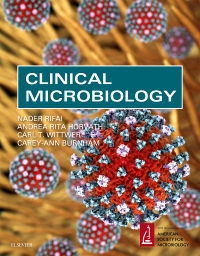 Publication Date:
04-24-2019
Or $0.00 with a valid access code
The Tietz Clinical Microbiology, 1st Edition provides the most current and authoritative guidance on selecting, performing, and evaluating the results of new and established laboratory tests. Derived from the gold standard in clinical chemistry – Tietz Textbook of Clinical Chemistry, 6th edition, this up-to-date online text provides everything you need to know, including: bacteriology, antimicrobial susceptibility, mycobacteriology, mycology, parasitology, virology, molecular microbiology, and mass spectrometry. Endorsed by the American Society of Microbiology, it is the definitive online reference in clinical chemistry and molecular diagnostics.
Access to this product, which may be at the discretion of your institution, is up to 3 years of online and perpetual offline access. Elsevier reserves the right to restrict or remove access due to changes in product portfolio or other market conditions.
Chapters cover essential topics in microbiology, including bacteriology, antimicrobial susceptibility, mycobacteriology, mycology, parasitology, virology, molecular microbiology, and mass spectrometry.
Features two unique resources, which include a collection of approximately 500 images, and over 100 short clinical cases.
Up-to-date and practical Microbiology information provides you with the most current information possible.
Content derived from the gold standard in clinical chemistry – Tietz Textbook of Clinical Chemistry, 6th edition.
Many chapters are syndrome- and not pathogen-based, reflecting the personalized medicine revolution which is moving the clinician out of the central laboratory and toward the patient and front-line physician.
Expert senior editors, bring fresh perspectives and help ensure the most current information is presented.
Internationally recognized chapter authors are considered among the best in their field.
Endorsed by the American Society of Microbiology

1. Mass Spectrometry Applications in Infectious Disease and Pathogens Identification
2. Molecular Microbiology
3. Bacteriology
4. Antimicrobial Susceptibility Testing
5. Mycobacteriology
6. Mycology
7. Parasitology
8. Virology
9. Atlas of Parasitology: The Bobbi Pritt Collection
10. Tietz Teasers in Parasitology: The Bobbi Pritt Collection

Nader Rifai, PhD, Professor Department of Pathology Harvard Medical School; The Louis Joseph Gay-Lussac Chair in Laboratory Medicine Boston Children's Hospital; Director of Clinical Chemistry Laboratory Medicine Boston Children's Hospital Boston, Massachusetts