Workbook for Radiography Essentials for Limited Practice - Elsevier eBook on VitalSource (Retail Access Card), 6th Edition
Elsevier eBook on VitalSource - Access Card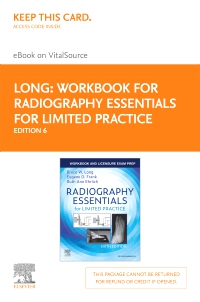 Free Shipping!
This item has low stock levels and may be back-ordered. We'll let you know if it is back-ordered, and you will not be charged until the item ships.
Reinforce your understanding of Radiography Essentials for Limited Practice, 6th Edition! With chapters corresponding to the chapters in the textbook, this practical workbook helps you review and apply the concepts and procedures required for limited radiography practice. Exercises include fill-in-the-blank, multiple-choice, and matching questions, as well as labeling of anatomy diagrams and mock exams. Written by the textbook's authors, this study tool includes an exam preparation guide to help you succeed on the ARRT Limited Scope of Practice in Radiography Exam and in a career as a Limited X-ray Machine Operator. This is the only workbook of its kind on the market!
Anatomy and positioning labeling along with terminology exercises provide a thorough review of standard and accepted radiographic terminology.
Section II provides content review with guidelines for exam prep, the ARRT content specifications for the Examination for the Limited Scope of Practice in Radiography, and a mock exam.
Section I offers learning activities and practice for all limited radiography topics and concepts.
Section III provides a preparation guide for the ARRT Bone Densitometry Equipment Operators Exam and includes study guidelines, ARRT content specifications, and a mock exam.
Over 100 labeling exercises for anatomy and radiographic images help you learn anatomy and gain familiarity with how the body appears on radiographic images.
Wide variety of exercises includes fill-in-the-blank, multiple choice, and matching, reinforcing your understanding of important topics including x-ray science and techniques, radiation safety, radiographic anatomy, pathology, patient care, ancillary clinical skills, and positioning of the upper and lower extremities, spine, chest, and head.

NEW! Updated content in the workbook reflects current practice and corresponds to material in the textbook.
NEW! Complete answer key is included in the book for immediate remediation.

SECTION I: Learning Activities
1. Role of the Limited X-ray Machine Operator
2. Introduction to Radiographic Equipment
3. Basic Mathematics for Limited Operators
4. Basic Physics for Radiography
5. X-ray Production
6. X-ray Circuit and Tube Heat Management
7. Principles of Exposure and Image Quality
8. Digital Imaging
9. Scatter Radiation and Its Control
10. Formulating X-ray Techniques
11. Radiobiology and Radiation Safety
12. Introduction to Anatomy, Positioning, and Pathology
13. Upper Limb and Shoulder Girdle
14. Lower Limb and Pelvis
15. Spine
16. Bony Thorax, Chest, and Abdomen
17. Skull, Facial Bones, and Paranasal Sinuses
18. Radiography of Pediatric and Geriatric Patients
19. Image Evaluation
20. Ethics, Legal Considerations, and Professionalism
21. Safety and Infection Control
22. Assessing Patients and Managing Acute Situations
23. Medications and Their Administration
24. Medical Laboratory Skills
25. Additional Procedures for Assessment and Diagnosis
26. Bone Densitometry
SECTION II:
Preparation Guide for the American Registry of Radiologic Technologists Examination for the Limited Scope of Practice in Radiography
SECTION III:
Preparation Guide for the American Registry of Radiologic Technologists Examination for Bone Densitometry Equipment Operators

Bruce W. Long, MS, RT(R)(CV), FASRT, FAEIRS, Director and Associate Professor (Retired), Radiologic Imaging and Sciences Programs, Indiana University School of Medicine, Indianapolis, Indiana., Eugene D. Frank, MA, RT(R), FASRT, FAEIRS, Associate Professor Emeritus, Mayo Clinic College of Medicine, Rochester, Minnesota. and Ruth Ann Ehrlich, Radiology Faculty (Retired), University of Western States, Portland, Oregon.