The Master Adaptive Learner
,
Paperback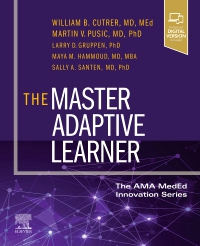 Free Shipping!
Not Yet Available
Coming Soon!
Expected availability date: 11-01-2019
Tomorrow's best physicians will be those who continually learn, adjust, and innovate as new information and best practices evolve, reflecting adaptive expertise in response to practice challenges. As the first volume in the American Medical Association's MedEd Innovation Series, The Master Adaptive Learner is an instructor-focused guide covering models for how to train and teach future clinicians who need to develop these adaptive skills and utilize them throughout their careers.
1. Who is the Master Adaptive Learner?
2. How does Master Adaptive Learning Advance Expertise Development?
3. The Master Adaptive Learner: A Conceptual Model?
4. What are the four critical personal characteristics that support the Master Adaptive Learning process?
5. Which cognitive processes are involved in the Master Adaptive Learner process?
6. What is the role of self-assessment in the Master Adaptive Learner model?
7. How do you measure the Master Adaptive Learner?
8. How and where do I teach my students about the Master Adaptive Learner model?
9. How will the Master Adaptive Learner process work in the classroom?
10. How will the Master Adaptive Learner process work at the bedside?
11. How Does Master Adaptive Learning Interact with the Learning Environment?
12. How can I best support Master Adaptive Learners using coaching?
13. Can the Master Adaptive Learner process help the struggling learner?
14. How Can the Master Adaptive Learner Model Advance Leadership Development?
15. How Can the Master Adaptive Learner Model and Health Systems Science Collaborate to Improve Health Care?
16. How does Master Adaptive Learning ensure optimal pathways to clinical expertise?

William Cutrer, Martin Pusic, Larry D Gruppen, PhD, Professor of Medical Education, University of Michigan Medical School, USA, Maya M. Hammoud, MD, MBA, Professor, Obstetrics and Gynecology
University of Michigan and Sally A. Santen, MD, PhD, Assistant Dean, Educational Research & Quality Improvement;
Associate Chair, Education, Department of Emergency Medicine
UNIVERSITY OF MICHIGAN HEALTH SYSTEM