Elsevier Adaptive Quizzing for Public Health Nursing - Classic Version
, 10th Edition
Elsevier Adaptive Quizzing - Access Card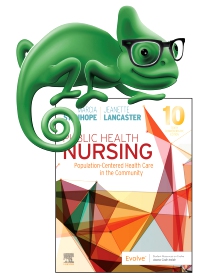 Free Shipping!
Not Yet Available
Coming Soon!
Expected availability date: 12-01-2019
Marcia Stanhope, PhD, RN, FAAN, Education and Practice Consultant and Professor Emerita
College of Nursing
University of Kentucky
Lexington, Kentucky and Jeanette Lancaster, PhD, RN, FAAN, Sadie Heath Cabiness Professor and Dean Emerita
School of Nursing
University of Virginia
Charlottesville, Virginia
Associate, Tuft & Associates, Inc.