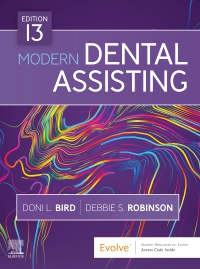 Publication Date:
03-27-2020
Dental Assisting Online (DAO) for Modern Dental Assisting, 13th Edition
Online Course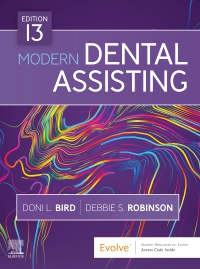 Publication Date:
03-27-2020
Or $0.00 with a valid access code
Hone your understanding of dental assisting with a blend of content review and fun and engaging exercises. This dynamic online course includes 42 modules based around particularly challenging content from Modern Dental Assisting,13th Edition and finds engaging ways to ensure you understand the information on a much deeper level than simple reading and memorization. A wide range of audio and visual learning activities encourage you to immerse yourself in the learning process and help you develop a more comprehensive understanding of textbook material. This proven learning strategy is the essential tool to guide you in becoming a competent Dental Assistant who knows how to think critically and solve problems in the workplace.
Correlation with Modern Dental Assisting textbook matches modules to corresponding chapters in the textbook, with reading assignments that provide the necessary background required to work through the module.
Customizable platform works on a variety of course management systems including Evolve, Blackboard, and others, with features including real-time chat, calendar, e-mail connections, bulletin board, and grade book.
Interactive exercises offer hands-on experience with word-building, identification and labeling, sequencing, fill-in, crosswords, and multiple-choice questions.
Case study scenarios focus on a fictitious patient within applicable modules, encouraging users to use the medical/dental histories, periodontal chart, and radiographs to supplement what you have learned and provide a realistic continuity of care.

NEW! Information on cultural diversity grounds users in this important topic and how it relates to patient care and patient communication.
REVISED! Updated art program includes high-quality photos, drawings, videos, and animations that illustrate dental assisting concepts and procedures, as well as clinical situations, equipment, and materials.
UPDATED! Coverage of the latest advances in general and specialty dental care covers technological advancements, public health and access to care, teledentistry, infection control guidelines, the Zika virus, Ebola, the oral-systemic health connection, and more.
UPDATED! Module exams and lesson quizzes test users' mastery of content and include immediate feedback.

Oral Embryology and Histology
Head and Neck Anatomy
Overview of the Dentitions
Tooth Morphology
Dental Caries
Periodontal Disease
Preventive Dentistry
Nutrition
Oral Pathology
Disease Transmission and Infection Prevention
Principles and Techniques of Disinfection
Principles and Techniques of Instrument Processing and Sterilization
Chemical and Waste Management
Medical History
Medically and Physically Compromised Patient
Vital Signs
Oral Diagnosis and Treatment Planning
Assisting in a Medical Emergency
Delivering Dental Care
Dental Hand Instruments
Dental Handpieces and Accessories
Moisture Control
Anesthesia and Pain Control
Foundations of Radiography, Radiographic Equipment, and Radiation Safety
Digital Imaging, Dental Film, and Processing Radiographs
Intraoral Imaging
Extraoral Imaging
Restorative and Esthetic Dental Materials
Dental Liners Bases, and Bonding Systems
Dental Cements
Impression Materials and Techniques
Laboratory Materials and Procedures
General Dentistry
Matrix Systems for Restorative Dentistry
Fixed Prosthodontics
Provisional Coverage
Endodontics
Oral and Maxillofacial Surgery
Coronal Polishing
Dental Sealants
Business Operating Systems
Financial Management in the Dental Office

Doni L. Bird, CDA, RDA, RDH, MA, Former Director, Dental Education Programs, Santa Rosa Junior College, Santa Rosa, California; Former Director, Dental Assisting Program University of New Mexico, Albuquerque, New Mexico, Debbie S. Robinson, CDA, MS, Former Research Associate, Department of Nutrition Gillings School of Global Public Health University of North Carolina – Chapel Hill Chapel Hill, North Carolina and Jeffrey R. Smith, DMD, Instructional Program Manager, Dental Assisting and Dental Hygiene, Florida State College Jacksonville, Jacksonville, FL
Or $0.00 with a valid access code