Pathology Case Reports,Elsevier E-Book on VitalSource (Retail Access Card), 1st Edition
Elsevier eBook on VitalSource - Access Card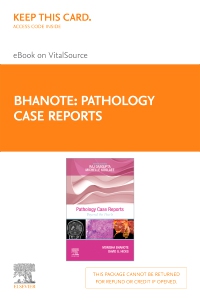 Free Shipping!
This item has low stock levels and may be back-ordered. We'll let you know if it is back-ordered, and you will not be charged until the item ships.
Pathology Case Reports: Beyond the Pearls is a case-based reference that covers the key material essential for USMLE and exam preparation. Focusing on the practical information you need to know, it teaches how to analyze a clinical vignette, sharpening your clinical decision-making skills and helping you formulate an evidence-based approach to realistic patient scenarios.

Access to this product, which may be at the discretion of your institution, is up to 3 years of online and perpetual offline access. Elsevier reserves the right to restrict or remove access due to changes in product portfolio or other market conditions.
1. Introduction to Pathology/Primer

a. Definitions (Benign/Malignant, Biopsy/Excision/Resections)

b. Ancillary studies (Immunohistochemistry, Special Stains, Molecular Studies)

c. Interpretation of pathology report

2. Oral Cavity/ENT

a. Tongue/Leukoplakia

b. Salivary glands

c. Nasal polyps

3. Gastrointestinal System, Liver and Pancreas

a. Pancreatitis

b. Pancreatic neoplasms

c. Hepatitis (infectious/autoimmune)

d. Gallbladder diseases

e. Esophagus

f. Stomach

g. Small bowel

h. Colon

4. Male Genital System

a. Testicular neoplasms

b. Prostate

5. Female Genital System

a. Vulvar/Vaginal neoplasia

b. Cervix

c. Uterus (benign and malignant tumors)

d. Ovaries

e. Gyn pap smears

6. Breast

a. Fibrocystic change

b. Benign tumors

c. Malignant tumors

d. Gynecomastia

7. Genitourinary System

a. Glomerular Diseases

b. Renal cell carcinoma

c. Bladder tumors

8. Respiratory System

a. Obstructive pulmonary disease (COPD/Asthma)

b. Intersitital lung disease

c. Infectious (Pneumo, Crypto, Histo, Aspergillus)

d. Tumors

e. Pleural based lesions

f. Sarcoid

9. Musculoskeletal System

a. Bone forming tumors

b. Cartilage forming tumors

c. Fibrous and Fibrous-osseous tumors

d. Gout/Pseudogout

e. Fatty tumors (lipoma/liposarcoma)

f. Synovial sarcoma

10. Skin

a. Dermatoses (acute, inflammartory, infectious)

b. Blistering (bullous) disorders

c. Malignant epithelial tumors (SCC,BCC)

d. Melanocytic lesions

11. Nervous System

a. Tumors

b. Degenerative diseases/dementias

12. Hematopoietic System

a. Red blood cell disorders/ Anemias

b

Monisha Bhanote, MD, FCAP, ABOIM, Breast Pathology Fellow, University of Rochester, Strong Memorial Hospital; and David G. Hicks, MD, Professor, Director, Surgical Pathology Unit, Department of Pathology and Laboratory Medicine, University of Rochester Medical Center, Rochester, New York