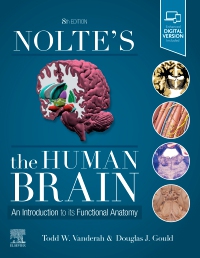 Publication Date:
04-03-2020
Evolve Resources for Nolte's The Human Brain, 8th Edition
Resources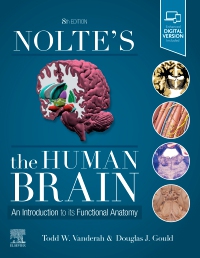 Publication Date:
04-03-2020
Free with purchase of new corresponding textbook
Throughout seven popular editions, Nolte's The Human Brain has accomplished the challenging task of demystifying the complexities of the gross anatomy of the brain, spinal cord, and brainstem. A clear writing style, interesting examples, and high-quality visual cues bring this complicated subject to life and make it more understandable and enjoyable to learn. You'll get the depth of coverage you need with a well-rounded presentation of all key topics in functional neuroanatomy and neuroscience.
There are no student resources for this product.
Todd Vanderah, PhD, Professor of Pharmacology, Departments of Neurology and Anesthesiology and Douglas J. Gould, PhD, Professor, Department of Foundational Medical Studies, Chair, Department of Foundational Medical Studies, Oakland University William Beaumont School of Medicine
Free with purchase of new corresponding textbook