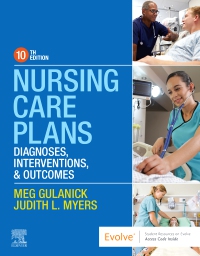 Publication Date:
01-29-2021
Evolve Resources for Nursing Care Plans, 10th Edition
Resources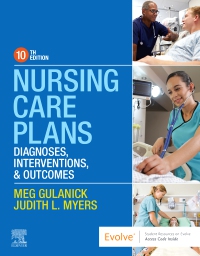 Publication Date:
01-29-2021
Or $0.00 with a valid access code
Free with purchase of new corresponding textbook
Student Resources on Evolve
30 online-only care plans
NEW! Online Care Planner
Duration for access to this product, which may be at the discretion of your institution, is up to 36 months. Elsevier reserves the right to restrict or remove access due to changes in product portfolio or other market conditions.
1. Using Nursing Care Plans to Individualize and Improve Care
2. Nursing Diagnosis Care Plans
3. Patient Readiness for Health Promotion
4. Care Plans for Clinical Problems
5. Fluid, Electrolyte, and Acid-Base Imbalances
6. Cardiac and Vascular Care Plans
7. Pulmonary Care Plans
8. Neurological Care Plans
9. Gastrointestinal and Digestive Care Plans
10. Musculoskeletal Care Plans
11. Cancer Care Plans
12. Hematolymphatic, Immunologic, and Oncologic Care Plans
13. Renal and Urinary Tract Care Plans
14. Men's and Women's Health Care Plans
15. Endocrine and Metabolic Care Plans
16. Integumentary Care Plans
Index

Meg Gulanick, PhD, RN, FAAN, Professor Emeritus,Marcella Niehoff School of Nursing,Loyola University,Chicago, Illinois and Judith L. Myers, MSN, RN, Formerly Assistant Professor of Nursing,Grand View University,Des Moines, IA
Or $0.00 with a valid access code
Free with purchase of new corresponding textbook