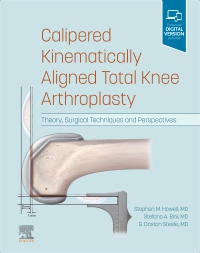 Publication Date:
10-27-2021
Calipered Kinematically aligned Total Knee Arthroplasty, 1st Edition
Hardcover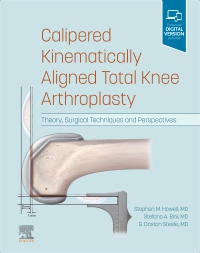 Publication Date:
10-27-2021
Calipered kinematic alignment was proposed by Dr. Stephen M. Howell to enable the accurate and individualized placement of total knee components coincident within ± 0.5 mm of the patient's pre-arthritic alignment. The aim was to restore the patient's native joint kinematics and thereby address the well documented 20% dissatisfaction when total knee replacement is performed using traditional, or mechanical alignment techniques.
With Dr. Stefano A. Bini and Dr. G. Daxton Steele as co-editors, Dr. Howell has curated an international team of expert surgeons and engineers to discuss various aspects of the calipered knee alignment technique in short, concise, and well-illustrated chapters. Each author provides clear, practical guidance for adopting and implementing calipered kinematic alignment covering manual, patient-specific, navigated, and robotic techniques. Chapters on component design tailored explicitly for kinematic alignment and showing the close relationship between knee biomechanics and the kinematically aligned TKA help the surgeon manage complex challenges associated with deformity and post-operative complications.
Following the introduction of the calipered kinematic alignment technique for total knee arthroplasty, many international studies have shown consistently better patient satisfaction than the traditional mechanical alignment technique. Better function and high long-term implant survival have catalyzed a paradigm shift in total knee replacement philosophy that is being embraced by orthopedic surgeons and innovative implant companies around the world with excellent results.
1 Mechanical Alignment TKA--A Thoughtful Beginning With Unanticipated Limitations
2 Phenotypes of the Knee and Limb – Rationale for Transitioning Towards Personalized Alignment in TKA
3 It is Time to Consider a Philosophical Change from Mechanical to Kinematic Alignment
4 Pre-Operative Evaluation of the Patient for Treatment with a Calipered Kinematically Aligned TKA
5 Calipered Kinematically Aligned TKA Performed With Specific Manual Instrumentation, Verification Checks, and a Decision-Tree
6 Calipered Kinematic Alignment Using Patient Specific Instrumentation
7 Calipered Kinematic Alignment with Navigation Instrumentation
8 Kinematic Alignment with Image-Based Robotic Instrumentation
9 Strategies for Improving Implant Design Based on Differences in Tibiofemoral Kinematics of a Low-Conforming TKA Implanted with Calipered Kinematic Alignment and the Native Knee
10 Strategies for Improving the Prosthetic Trochlea Design Based on Differences in Trochlea Morphology Between Femoral Components Set in Kinematic and Mechanical Alignment and the Native Knee
11 Advantages of Kinematically Aligned Total Knee Arthroplasty: A Biomechanical Perspective
12 Calipered Kinematically Aligned TKA Closely Restores the Tibial Compartment Forces of the Native Knee
13 Clinical Outcome, Postoperative Alignment, and Implant Survivorship After Kinematically Aligned TKA
14 Managing Severe Deformities with Calipered KA
15 Unicompartmental Knee Arthroplasty Managed with Calipered KA: Bini
16 Post-operative Management
17 Reducing the Risk And Management of Stiffness After Calipered Kinematically Aligned Total Knee Arthroplasty
18 Reducing the Risk and Management of Early and Late Tibial Component Failure After Calipered Kinematically Aligned TKA
19 Reducing the Risk and Management of Patellofemoral Instability After Calipered Kinematically Aligned Total Knee Arthroplasty
20 Retaining the PCL and Restoring the Pre-Arthritic Tibial Joint Line Reduces The Risk of Early-Onset Tibiofemoral Instability After Calipered KA TKA
21 Revision TKA using Kinematic Alignment Principles: Steele

Stephen M. Howell, MD, Stefano A. Bini, MD and G. Daxton Steele, MD