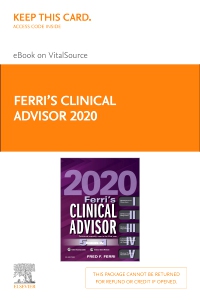 Publication Date:
08-08-2019
Ferri's Clinical Advisor 2020, Elsevier E-Book on VitalSource (Retail Access Card), 1st Edition
Elsevier eBook on VitalSource - Access Card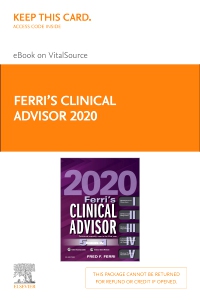 Publication Date:
08-08-2019
Free Shipping!
This item has low stock levels and may be back-ordered. We'll let you know if it is back-ordered, and you will not be charged until the item ships.
Significantly updated with the latest developments in diagnosis and treatment recommendations, Ferri's Clinical Advisor 2020 features the popular "5 books in 1" format to organize vast amounts of information in a clinically relevant, user-friendly manner. This efficient, intuitive format provides quick access to answers on 1,000 common medical conditions, including diseases and disorders, differential diagnoses, and laboratory tests – all reviewed by experts in key clinical fields. Updated algorithms, along with hundreds of new figures, tables, and boxes, ensure that you stay current with today's medical practice.
Contains significant updates throughout, covering all aspects of current diagnosis and treatment.

Features 27 all-new topics including chronic traumatic encephalopathy, medical marijuana, acute respiratory failure, gallbladder carcinoma, shift work disorder, radial tunnel syndrome, fertility preservation in women, fallopian tube cancer, primary chest wall cancer, large-bowel obstruction, inguinal hernia, and bundle branch block, among others.

Includes a new appendix covering Physician Quality Reporting System (PQRS) Measures.

Provides current ICD-10 insurance billing codes to help expedite insurance reimbursements.

Patient Teaching Guides for many of the diseases and disorders are included, most available in both English and Spanish versions, which can be downloaded and printed for patients.

Offers access to exclusive online content: more than 90 additional topics; new algorithms, images, and tables; EBM boxes; patient teaching guides, color images, and more.
Enhanced eBook version included with purchase. Your enhanced eBook allows you to access all of the text, figures, and references from the book on a variety of devices.

Section I: Diseases and DisodersAbdominal Aortic AneurysmAbdominal Compartment SyndromeAbruptio PlacentaeAbsence Seizures [was Seizures, Absence]Acetaminophen PoisoningAchalasiaAchilles Tendon RuptureAcne VulgarisAcoustic NeuromaAcquired Immunodeficiency SyndromeAcromegalyActinic KeratosisActinomycosisAcute BronchitisAcute Colonic Pseudo-Obstruction (Ogilvie's Syndrome)Acute Coronary SyndromeAcute Glomerulonephritis (AGN) [was Glomerulonephritis, Acute]Acute Kidney InjuryAcute Liver FailureAcute Lower Gastrointestinal Bleeding [NEW]Acute Lymphoblastic Leukemia (ALL) [was Leukemia, Acute Lymphoblastic]Acute Mesenteric Ischemia [was Mesenteric Ischemia, Acute]Acute Myelogenous Leukemia (AML) [was Leukemia, Acute Myelogenous]Acute Pelvic Pain in Women [NEW]Acute Respiratory Distress Syndrome (ARDS)Acute Stress DisorderAcute Tubular Necrosis [was Tubular Necrosis, Acute]Acute Urinary Retention (AUR)Adrenal InsufficiencyAdult-Onset Still DiseaseAlcohol AbuseAlcoholic HepatitisAldosteronismAllergic RhinitisAlopeciaAlpha-1-Antitrypsin DeficiencyAlzheimer's DiseaseAmaurosis FugaxAmblyopiaAmebiasisAmenorrheaAmyloidosisAmyotrophic Lateral SclerosisAnaerobic Infections Anal FissureAnaphylaxisAnemia, AplasticAnemia, Autoimmune HemolyticAnemia, InflammatoryAnemia, Iron DeficiencyAnemia, PerniciousAnemia, SideroblasticAngina PectorisAngioedemaAngular CheilitisAnkle FractureAnkle SprainAnkylosing SpondylitisAnorectal FistulaAnorexia NervosaAnoxic Brain InjuryAnthraxAntibody-Mediated Autoimmune Encephalitis [NEW]Antiphospholipid Antibody SyndromeAnxiety (Generalized Anxiety Disorder)Aortic Coarctation (Coarctation of the Aorta)Aortic DissectionAortic RegurgitationAortic StenosisAppendicitisArrhythmogenic Right Ventricular DysplasiaAsbestosisAscariasisAscitesAspergillosisAspiration Pneumonia [was Pneumonia, Aspiration]AsthmaAsthma-COPD Overlap SyndromeAstrocytomaAtaxiaAtaxia TelengiectasiaAtelectasisAtopic DermatitisAtrial FibrillationAtrial FlutterAtrial MyxomaAtrial Septal DefectAtrioventricular DissociationAttention Deficit Hyperactivity Disorder Autism Spectrum DisorderAutoimmune Hepatitis [was Hepatitis, Autoimmune]Autosomal Dominant Polycystic Kidney Disease (ADPKD) [was Polycystic Kidney Disease]AV Malformations, CerebralAvascular NecrosisBabesiosis Baker's CystBalanitisBarrett EsophagusBartholin Gland AbscessBartter SyndromeBasal Cell CarcinomaBasic Calcium Phosphate (BCP) DepositionBedbug BiteBehçet's DiseaseBell PalsyBenign Paroxysmal Positional VertigoBenign Prostatic Hyperplasia (BPH) [was Prostatic Hyperplasia, Benign]Biceps TendonitisBinge Eating DisorderBipolar DisorderBisphosphonate-Related Osteonecrosis of JawBite WoundsBites and Stings, ArachnidsBites and Stings, InsectBites, SnakeBladder CancerBladder Pain Syndrome (Interstitial Cystitis) [was Interstitial Cystitis]BlastomycosisBlepharitisBody Dysmorphic DisorderBone Tumor, Primary MalignantBorderline Personality DisorderBotulismBrain AbscessBrain MetastasesBrain Neoplasm, BenignBrain Neoplasm, GlioblastomaBreast AbscessBreast CancerBreech BirthBronchiectasisBrucellosisBrugada SyndromeBruxismBudd-Chiari SyndromeBulimia NervosaBullous PemphigoidBurning Mouth SyndromeBurnsBursitisCalcium-Alkali SyndromeCancer of Unknown Primary SiteCandidiasis, CutaneousCandidiasis, InvasiveCarbon Monoxide PoisoningCarcinoid SyndromeCardiac TamponadeCardiomyopathy, Chemical InducedCardiomyopathy, DilatedCardiomyopathy, HypertrophicCardiomyopathy, RestrictiveCardiorenal SyndromeCarotid Sinus SyndromeCarotid StenosisCarpal Tunnel SyndromeCataractsCat-Scratch DiseaseCavernous Sinus ThrombosisCeliac DiseaseCellulitisCerebral PalsyCerebral VasculitisCervical Artery Dissection [NEW]Cervical CancerCervical Disc SyndromesCervical DysplasiaCervical InsufficiencyCervical PolypsCervicitisChagas' DiseaseChancroidCharcot JointCharcot-Marie-Tooth DiseaseChemotherapy-Induced Nausea and VomitingChild Abuse and Neglect [was Child Abuse]Chlamydia Genital InfectionsCholangiocarcinomaCholangitisCholecystitisCholedocholithiasisCholelithiasisCholeraChoreaChronic Fatigue SyndromeChronic Inflammatory Demyelinating Polyneuropathy (CIDP)Chronic Kidney DiseaseChronic Lymphocytic Leukemia (CLL) [was Leukemia, Chronic Lymphocytic]Chronic Myelogenous Leukemia (CML) [was Leukemia, Chronic Myelogenous]Chronic Obstructive Pulmonary DiseaseCirrhosisCirrhotic Cardiomyopathy (CCM) [NEW]ClaudicationClostridium difficile InfectionCluster Headache [was Headache, Cluster]Cocaine OverdoseCoccidioidomycosisCogan's SyndromeColorado Tick FeverColorectal CancerCompartment SyndromeComplex Regional Pain SyndromeConcussionConduct DisorderCondyloma AcuminatumCongenital Adrenal HyperplasiaConjunctivitisConnective Tissue Disease-Associated Vasculitis [NEW]Constipation [NEW]Contact DermatitisContraceptionContrast-Induced Acute Kidney Injury (CI-AKI)Conversion DisorderCor PulmonaleCorneal AbrasionCorneal UlcerationCoronary Artery DiseaseCostochondritisCraniopharyngiomaCreutzfeldt-Jakob DiseaseCrohn's DiseaseCroup (Laryngotracheobronchitis)CryoglobulinemiaCryptococcosisCryptogenic Organizing Pneumonia [NEW]CryptorchidismCryptosporidium InfectionCubital Tunnel SyndromeCushing's Disease and SyndromeCutaneous Larva MigransCyanosis [NEW]Cyclic Vomiting SyndromeCystic FibrosisCysticercosisCytomegalovirus InfectionDe Quervain's TenosynovitisDeep Vein ThrombosisDelayed PubertyDeliriumDelirium TremensDelusional ParasitosisDementia with Lewy bodiesDengue FeverDependent Personality DisorderDepression, MajorDermatitis HerpetiformisDiabetes InsipidusDiabetes MellitusDiabetic FootDiabetic KetoacidosisDiabetic PolyneuropathyDiabetic RetinopathyDiarrhea, Persistent [NEW]Diffuse Idiopathic Skeletal Hyperostosis (DISH)Digoxin OverdoseDiphtheriaDiplopia [NEW]Discoid LupusDisseminated Intravascular CoagulationDissociative DisordersDiverticular Disease (Diverticulosis, Diverticulitis, Diverticular Hemorrhage) [was Diverticular Disease (Diverticulosis, Diverticulitis)]Down SyndromeDrowningDrug AbuseDrug-Induced Liver InjuryDrug-Induced Parenchymal Lung DiseaseDumping SyndromeDupuytren's ContractureDysfunctional Uterine BleedingDysmenorrheaDyspareuniaDyspepsia, NonulcerativeDysphagiaDystoniaEarly Repolarization SyndromeEchinococcosisEclampsiaEctopic PregnancyEhlers-Danlos SyndromeEhrlichiosis and AnaplasmosisEjaculation and Orgasm DisordersElder AbuseElectrical and Lightning InjuryEmergency ContraceptionEmpyemaEncephalitis, Acute ViralEncephalopathyEncopresisEndocarditis, InfectiveEndometrial CancerEndometriosisEndomet

Fred F. Ferri, MD,, Clinical Professor, The Warren Alpert Medical School, Brown University, Providence, Rhode Island