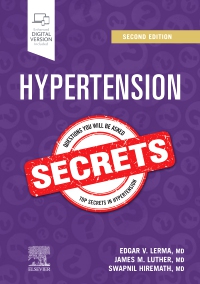 Publication Date:
03-11-2022
Hypertension Secrets Elsevier E-Book on VitalSource, 2nd Edition
Elsevier eBook on VitalSource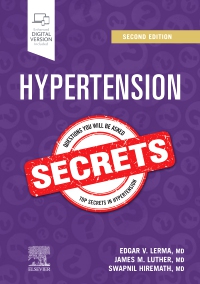 Publication Date:
03-11-2022
Or $0.00 with a valid access code
For more than 30 years, the highly regarded Secrets Series® has provided students and practitioners in all areas of health care with concise, focused, and engaging resources for quick reference and exam review. Hypertension Secrets, 2nd Edition, offers practical, up-to-date coverage of the full range of essential topics in this dynamic field. This highly regarded resource features the Secrets' popular question-and-answer format that also includes lists, tables, pearls, memory aids, and an easy-to-read style – making inquiry, reference, and review quick, easy, and enjoyable.
Top 100 Secrets
1 Measurement of Blood Pressure in the Office
2 Ambulatory and Home Blood Pressure Monitoring
3 Clinical Evaluation of the patient with Hypertension
4 Hypertensive Emergencies and Urgencies
5 The Epidemiology of Hypertension
6 Physiology of Blood Pressure regulation
7 Target Organ Damage or Why Should We Treat Hypertension?
8 Primary Aldosteronism and Mineralocorticoid Hypertension
9 Glucocorticoid Hypertension
10 Pheochromocytoma and Paraganglioma
11 Other endocrine causes of hypertension
12 Renovascular Hypertension
13 Drug-induced hypertension
14 Obstructive sleep apnea and Hypertension
15 Hereditary causes of Hypertension
16 Hypertension in children and adolescents
17 Hypertension in Chronic Kidney Disease (CKD) and End Stage Kidney Disease (ESKD)
18 Hypertension in Diabetes
19 Hypertension after Transplantation
20 Treatment of Hypertension in Obesity
21 Hypertension in Blacks
22 Hypertension in the Elderly
23 Hypertension in Pregnancy
24 Hypertension in Heart disease
25 HT in patient with stroke/CVD
26 Hypertension in the patient with Aortic dissection
27 Resistant and Pseudoresistant Hypertension
28 Hyperkalemia in Hypertension
29 Lifestyle Modifications for Hypertension Management
30 Blood Pressure Treatment Goals
31 Angiotensin Converting Enzyme Inhibitors & Angiotensin Receptor Blocker
32 Calcium Channel Blockers
33 Direct Vasodilators
34 Loop and Thiazide Diuretics
35 Potassium-sparing diuretics
36 Alpha Antagonists
37 Beta-blockers
38 ?2-AGONISTS
39 Drug-drug and Pharmacogenetic Interactions
40 Role of Device therapy
41 Orthostatic hypotension
42 Baroreflex Dysfunction
43 Hypertension - Origins

Edgar V. Lerma, MD, FACP, FASN, FAHA, Clinical Associate Professor of Medicine, Section of Nephrology, Department of Medicine, University of Illinois and Chicago College of Medicine; Associates in Nephrology, S.C., Chicago, Illinois