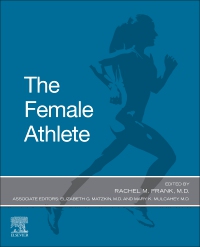 Publication Date:
08-03-2021
The Female Athlete, 1st Edition
Paperback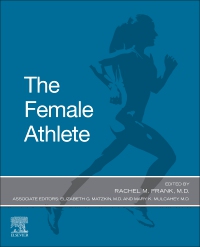 Publication Date:
08-03-2021
Free Shipping!
This item has low stock levels and may be back-ordered. We'll let you know if it is back-ordered, and you will not be charged until the item ships.
Of all the important factors that must be considered when assessing and treating an athlete, the impact of patient sex is perhaps the most critical, yet historically has often been neglected. The "same injury" in a male patient may present differently, sometimes in subtle ways, than in a female patient and may require a different treatment approach. The Female Athlete, edited by Dr. Rachel Frank, provides concise, expert coverage of the ways in which common sports medicine injuries present in female patients versus male patients, describing recent literature analyzing sex differences in injury patterns and available treatment options.
Provides a comprehensive review of key areas of importance related to care for women in sports, including the differences in care and treatment for male and female patients.

Covers many of the most common injuries female athletes face, including ACL injuries, shoulder instability, concussion, stress fractures, female overuse injuries, and more.
Considers prevention strategies, nutritional recommendations, as well as exercise recommendations for women during pregnancy.

1. Knee Anatomy and Biomechanics 2. Anterior Cruciate Ligament Injury in the Female Athlete 3. Anterior Cruciate Ligament Injuries: Sex-Based Differences 4. Anterior Cruciate Ligament Injuries in Female Soccer Players 5. Anterior Cruciate Ligament Injury Prevention 6. Meniscus and Articular Cartilage Injuries 7. Patellofemoral Pain in the Female Athlete 8. Patellar Instability 9. Hip Anatomy and Biomechanics 10. Nonarthritic Hip Pathology 11. Hip Disorders in the Female Athlete 12. Ankle Anatomy and Biomechanics 13. Ankle Instability 14. Shoulder Anatomy and Biomechanics 15. Shoulder Instability in the Female Athlete 16. Rotator Cuff Function and Injury in the Female Athlete 17. Elbow Anatomy and Biomechanics 18. Elbow Ulnar Collateral Ligament Injuries in the Female Athlete 19. Osteochondritis Dissecans of the Elbow 20. Epidemiology of Female Versus Male Athletic Injuries 21. Overuse Injuries in Females 22. Concussions in the Females 23. Stress Fractures 24. Chronic Exertional Compartment Syndrome 25. The Female Athlete Triad/Relative Energy Deficiency in Sports 26. Exercise Considerations Before, During, and After Pregnancy

Rachel Frank, MD, Associate Professor, Orthopaedics Colorado University School of Medicine, Denver CO USA