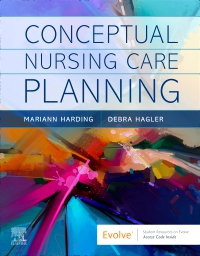 Publication Date:
02-10-2021
Conceptual Nursing Care Planning, 1st Edition
Paperback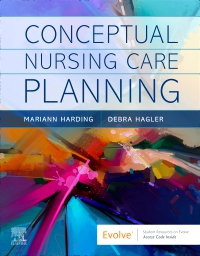 Publication Date:
02-10-2021
Plan effective patient care using standardized interprofessional clinical problems and a concept-based approach! Conceptual Nursing Care Planning shows you how to identify clinical problems, determine expected outcomes, and choose interventions — all grounded in a logical, concept-based framework. The focus on concepts gives you the big picture, helping you recognize similarities in nursing care based on physiologic concepts, as well as differences based on the needs of individuals. Written by noted nursing educators Mariann Harding and Debra Hagler, this new book demonstrates how the use of a concept-based approach and standardized clinical problems language makes it easier to plan effective care and to communicate with other members of the interprofessional team.
Access to this product, which may be at the discretion of your institution, is up to 3 years of online and perpetual offline access. Elsevier reserves the right to restrict or remove access due to changes in product portfolio or other market conditions.
73 conceptual nursing care plans are based on Giddens concepts.
Logical format for conceptual nursing care plans includes a definition of the concept, clinical problems, common causes, manifestations, outcomes, interventions, related concepts, and related clinical problems.
Guidance for prioritized care planning organizes interventions in an assess-intervene-teach format, to help identify the most important priority interventions for patients.
Use of standardized nursing language conveys concepts and clinical problems in easily understandable language that is commonly used in clinical settings, organizing care plans around terminology recognized by the American Nurses Association and easily understood by other healthcare professionals.
UNIQUE! Wide-ranging approach covers concepts that are not addressed in other texts, such as health disparities, risk in pregnancy, impaired immunity, substance use, sensory deficits, continuity of care, and the dying process.
Introduction opens the book by explaining the components of a conceptual nursing care plan and how to use the book to create patient-centered nursing care plans.
Conceptual Care Map Creator on the Evolve website helps document care planning projects and clinical assignments.
Expert authors Mariann Harding and Debra Hagler are nursing thought leaders and editors of the bestselling Lewis's Medical Surgical Nursing: Assessment and Management of Clinical Problems.

Introduction: Introduction to Conceptual Care Planning
SECTION 1
Concepts and Clinical Problems
Attributes and Resources
1. Development
Impaired Growth and Development
2. Functional Ability
Fatigue
Impaired Role Performance
Personal Care Problem
3. Family Dynamics
Parenting Problem
Impaired Family Function
Personal Preferences
4. Culture
Cultural Belief Conflict
Impaired Socialization
5. Spirituality
Spiritual Problem
6. Adherence
Decisional Conflict
Nonadherence
7. Self-Management
Health Maintenance Alteration
Homeostasis and Regulation
8. Fluid and Electrolytes
Electrolyte Imbalance
Fluid Imbalance
9. Acid-Base Balance
Acid-Base Imbalance
10. Thermoregulation
Altered Temperature
11. Sleep
Impaired Sleep
12. Gas Exchange
Impaired Respiratory Function
13. Intracranial Regulation
Increased Intracranial Pressure
Neurologic Problem
14. Hormonal Regulation
Impaired Endocrine Function
15. Glucose Regulation
Altered Blood Glucose Level
16. Nutrition
Body Weight Problem
Impaired Gastrointestinal Function
Infant Feeding Problem
Nutritionally Compromised
17. Elimination
Impaired Bowel Elimination
Impaired Urinary Elimination
18. Perfusion
Impaired Cardiac Function
Impaired Tissue Perfusion
Altered Blood Pressure
Sexuality and Reproduction
19. Reproduction
Impaired Fertility
Risk for Perinatal Problems
20. Sexuality
Impaired Sexual Function
Negative Self-Image
Protection and Movement
21. Immunity
Allergy
Impaired Immunity
22. Inflammation
Inflammation
23. Infection
Risk for Infection
Infection
24. Mobility
Activity Intolerance
Musculoskeletal Problem
25. Tissue Integrity
Impaired Tissue Integrity
Risk for Impaired Skin Integrity
26. Sensory Perception
Sensory Deficit
27. Pain
Pain
Mood and Cognition
28. Grief
Grief
29. Psychosis
Impaired Psychologic Status
30. Stress and Coping
Difficulty Coping
31. Mood and Affect
Depressed Mood
Emotional Problem
32. Anxiety
Anxiety
33. Cognition
Impaired Cognition
Maladaptive Behavior
34. Addiction
Substance Use
35. Interpersonal Violence
Victim of Violence
Violence Behavior
Attributes
36. Health Promotion
Risk for Disease
37. Patient Education
Deficient Knowledge
Literacy Problem
Care Competencies
38. Communication
Impaired Communication
39. Safety
Risk of Environmental Injury
Health Care Associated Complication
Risk for Injury
Health Care Delivery
40. Care Coordination
Continuity of Care Problem
41. Caregiving
Caregiver Role Strain
42. Palliative Care
Dying Process
43. Health Disparities
Socioeconomic Difficulty
44. Community Health
Inadequate Community Resources
SECTION 2
Exemplars with Common Clinical Problems

Mariann M. Harding, PhD, RN, CNE, FAADN, Professor of Nursing Technology,Kent State University Tuscarawas,New Philadelphia, Ohio and Debra Hagler, PhD, RN, ACNS-BC, CNE, CHSE, ANEF, FAAN, Clinical Professor,Edson College of Nursing and Health Innovation,Arizona State University,Phoenix, Arizona