Malamed's Local Anesthesia Administration Videos - Access Code, 3rd Edition
Video Series - Access Card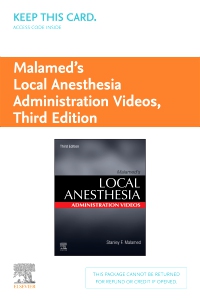 Through engaging videos and animations, dental and dental hygiene students can closely study safe dental anesthesia administration. This content covers preclinical dental anesthesia procedures and techniques, and students can gain the easy-to-understand, in-depth knowledge that often comes from visual formats.
Expertly narrated, Malamed's Local Anesthesia Administration Videos, 3rd edition shows students step-by-step visuals of how to administer anesthesia in today's dental settings, including specific techniques for injection and pain control. The visual approach also gives students a safe space to learn complex anesthesia techniques before working on live patients.
Duration for access to this product, which may be at the discretion of your institution, is up to 36 months. Elsevier reserves the right to restrict or remove access due to changes in product portfolio or other market conditions.
Step-by-step procedures – For administering the various techniques of intraoral anesthesia
Detailed descriptions – Various routes of administration for all anesthetics are presented in thorough detail
Expert authorship – Stanley Malamed is one of the most in-demand and globally recognized experts on the subject of dental anesthesia and sedation. Readers can trust that the information and clinical advice in this text represent the most current and effective solutions around.

Posterior superior alveolar (PSA) nerve block
Middle superior alveolar (MSA) nerve block
Anterior superior alveolar (ASA) nerve block
Greater palatine nerve block
Nasopalatine nerve block
Palatal infiltration
Anterior middle superior alveolar (AMSA) nerve block
Palatal approach-anterior superior alveolar (P-ASA) injection
Maxillary nerve block
Inferior alveolar nerve block
Buccal nerve block
Mandibular nerve block (Gow-Gates)
Vazirani-Akinosi closed-mouth mandibular nerve block
Mental nerve block
Incisive nerve block
Periodontal ligament injection
Intraseptal injection
Intraosseus injection
NEW! Articaine via mandibular infiltration
NEW! Kovanase (nasal mist)

Stanley F. Malamed, DDS, Professor and Chair, Section of Anesthesia and Medicine, University of Southern California School of Dentistry, Los Angeles, CA