The Hip and Pelvis, 1st Edition
Hardcover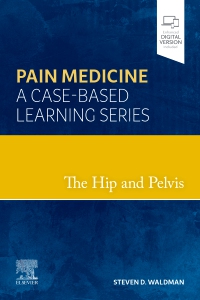 Linking theory to practice through the use of authentic clinical cases, Dr. Steven D. Waldman's Pain Medicine: A Case-Based Learning Series helps readers acquire the valuable skill of effective diagnostic thinking in daily practice. The Hip and Pelvis volume uses an in-depth case format, preparing you to correctly analyze clinical vignettes and formulate a clinically sound, evidence-based approach to realistic patient scenarios. This highly effective leaning and assessment tool provides practical clinical insights into the best methods for diagnosis and treatment for the successful management of patients with hip and pelvis-related pain.
Transmittal Materials
1 Addie Brooks: A 52-year-old Female with right hip and groin pain
2 Sandy Brooks: A 69-year-old Female with Left Hip and Groin Pain
3 Beth Nash: A 25-year-old Female with right groin pain
4 Bob Hamilton: A 42-year-old Male with Numbness in the Lateral Thigh
5 Becky Hanna: A 27-year-old Female with Severe Left Hip Pain
6 Carol Kane: A 23-year-old Female with Buttocks and Posterior Hip Pain
7 Jimmie Kaline: A 27-year-old Male with a Snapping Hip
8 Zoey Hart: A 25-year-old Female with Suprapubic Pain
9 Avi Rudin: A 68-year-old Male with Anterior Thigh and Medial Calf Pain and Difficulty Walking Up Stairs
10 Mario Berbiglia: A 72-year-old Male with Medial Thigh Pain Following a Total Hip Arthroplasty
11 KayLeigh McIlhenny: A 21-year-old Female with Right Groin Pain Following a Cheerleading Accident
12 Ashley Stubbs: A 32-year-old Male with a Dull Ache in the Buttocks and Pain Down the Back of the Thigh and Calf after a Fall on the Ice
13 Carrie Matheson: A 30-year-old Female with Shooting Rectal Pain
14 Meredith Grace: A 32-year-old Female with Right Ill-Defined Low Back and Buttocks Pain
15 Buddy Johnson: A 32-year-old Male with Tailbone Pain after a Fall off a Ladder

Steven D. Waldman, MD, JD, Clinical Professor of Anesthesiology, Professor of Medical Humanities and Bioethics, University of Missouri-Kansas City, Kansas City, Missouri, U.S.A.